World Book Day: Our Top Ten Children's Books
*Amazon Affiliate Links
It's World Book Day and to mark this, myself and Jake have put our heads together to bring you our favourite 10 books at the moment:
Stick Man has been a firm favourite since we saw the film. If you aren't familiar with Julia Donaldson's writing or Axel Scheffler's illustrations you are really missing a treat. With fun rhymes, great stories and amazing images, every book is a new joy. In this story Stick Man lives in his family tree with his stick lady love and his stick children three – nope, I didn't even need to refer to the book for that rhyme! He goes out for a jog which leads to problem after problem and he finds himself far away from his family and trying to get back to them.
As you can see, we are such fans that Jake's Nanny made him his very own Stick Man.
Purchase Stick Man
The Tickly Octopus is about a naughty octopus who likes to go around tickling all the other sea creatures. They don't enjoy it and when he tickles the Oyster one day, she loses her pearl. He promises to make it right by finding it and in doing so he discovers that he is good at other things too.
Purchase Tickly Octopus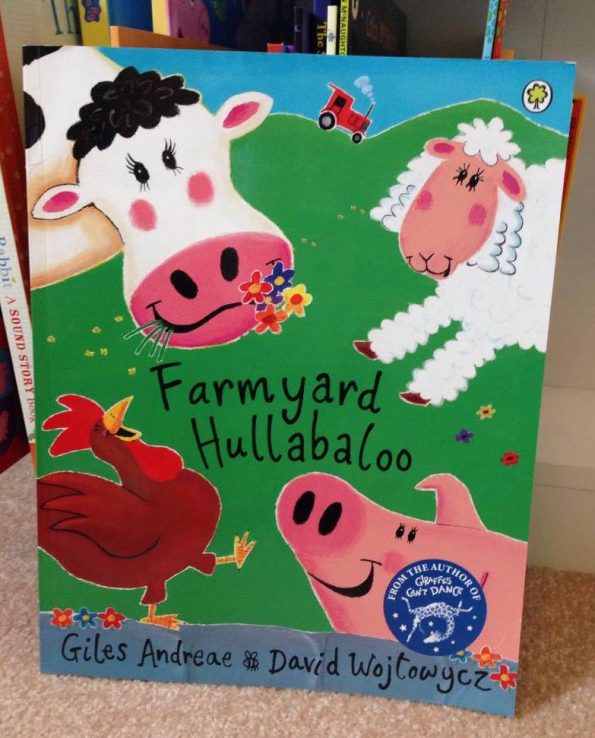 Farmyard Hullabaloo is a fun rhyming book about all the animals on the farm. It ends really nicely at night time which makes it a good one to wind down to at the end of the day.
Purchase Farmyard Hullabaloo! (Orchard Picturebooks)
Even though Jake is now three, he still loves this story. Buster goes to his Grandma's house which is on a farm. She asks him to go to collect some eggs for breakfast but he can't remember where the eggs come from. Jake finds it hilarious that he looks in the pig sty, the stable, in the dog kennel and so on. It has flaps to lift to reveal what animal is in each scene. This is such a classic.
Purchase Oh Dear!
Another from Rod Campbell. Dear Zoo is also a flap lift book and is about a child who writes to a zoo to get a pet. Each pet they send isn't right in some way and they keep sending a different animal until they eventually get it just right.
Purchase Dear Zoo
The Snail and the Whale is one of my favourites… not so much Jake's, but I'm the one who has to read them every night aren't I?! Another rhyming book from Julia Donaldson which follows the story of the little snail who has an itch to see the world. He hops on the tail of a whale and has a great adventure including saving his huge friend when he becomes beached.
Purchase The Snail and the Whale
Say Boo to the Animals is the story of a little rabbit who wants to feel brave when walking through the woods so decides to say 'Boo!' to any animal that frightens him a little. It's a great one to read together and also getting your child to shout 'boo' really loudly is so much fun. It doesn't work too well for bedtime, mind!
Purchase Say Boo to the Animals! (Say Hello)
 Peter likes to paint different animals onto pebbles. One day he accidentally drops his fish pebble into water and is amazed when it comes to life! He gradually brings each one to life and finds his house full of animals which he has to hide from his parents and he needs to quickly come up with a solution for where they can all live. I love this because it shows how a child can really use their imagination.
Purchase Peter's Pebbles
The Harry and the Dinosaurs series is Jake's favourite range of books at the moment. We received them for Christmas and this one has him hooked! Harry has a bucketful of dinosaurs which he can talk to. He takes them to the Museum and finds out about their ancestors but by doing so he ends up getting lost.
Purchase Harry and the Dinosaurs at the Museum
In this Harry and the Dinosaurs edition, Harry has a toy robot but it goes wrong at the beginning of the story. He wants to make a new one but his Nan falls ill and is taken to hospital with a bad cough. Harry is very close to his Nan so makes robots to take to hospital to help 'Blaaaast' her cough and make her better. As you can see from the picture we have also been making robots because of this book!
Purchase Harry and the Robots (Harry and the Dinosaurs)
Those are our top books but what are yours?
*This post contains Amazon affiliate links. For more information please refer to my disclosure page.
Pin for later:
If you enjoyed this post you can follow more of our life, opinions and antics over on Facebook, Twitter, YouTube and Instagram. Plus feel free to come and join in with my parenting group 'From One Parent to Another' on Facebook.
If you'd like to contact me you can either leave me a comment or drop me a line via my contact me page.
For other topics similar to this one check out these suggestions below…