An Honest Review of The New Adventure Play at Windsor Great Park
As a family with 2 very active boys, we are always on the lookout for new places to visit and things to do. They love being outside, exploring, climbing and running and we are fortunate enough to live in an area of Hampshire that is very close to the M3, which can lead us to many fantastic spots, including the latest addition to Windsor Great Park – Adventure Play. This handcrafted adventure playground has had a lot of hype around its opening so we just had to go along to see what it was all about. Here is our honest review…
How to Get to Adventure Play Park
The Adventure Play Park is located on the same grounds as The Savill Garden within Windsor Great Park (next to Virginia Water) and is easily accessed via the M3 motorway. There is plenty of parking at The Savill Garden and your ticket can be validated at the Adventure Play entrance (also at The Gardens if you visit there).
What You Need to Know Before Going
You need to book your 2-hour play session before arriving which can be done quite a few weeks in advance at the time of writing this. You need to pay for both children and adults because yep, you get to join in with the fun too! The Adventure Play states that it is aimed at children aged 2-12 years old although the pricing goes up to 17 years for kids and then from 18+ for adults so I think 12 is just a guideline. The recommended ratio by Adventure Play is 1 adult to 4 children but be very aware that it is easy to lose a child in here so extra pairs of eyes can be very beneficial (speaking from experience!) However, there ARE staff members within the play areas to help and assist. The venue does open in all weathers so be prepared to go even in the rain as they don't offer refunds. Only assistance/emotional support dogs are allowed into Adventure Play so make sure you leave your furry pet friend at home (I wanted to add this because the rest of Windsor Great Park does welcome dogs so it would be easy to assume that the Adventure Play would do too).
Adventure Play Review
On first booking, our initial thoughts (like many) were this is pricey for just 2 hours. At £12 an adult and £16 a child (2 and under are free), we felt this was going to be a big treat for the summer holidays that we wouldn't be repeating for a while, however, after visiting my mind has definitely been changed…
Arrival
On arrival we were greeted by wonderful, smiley and helpful staff – my youngest managed to bang his head on the wing mirror of the car when we were unloading bags (yep, first injury before we even left the car park!) so I had to go in and ask for an ice pack. They were really lovely and had a first aid kit under the desk so could assist us immediately. They then asked for the car park ticket to validate it for the entire day and scanned our booking QR codes. You are then given a coloured paper wristband which indicates which play session you are in – listen out for the staff ringing the bell and saying which colour's time is up.
When you first walk in there is a gift shop area – I just wanted to warn you because little people like little things in shops! But don't worry there is also a place to get a coffee or tea for yourself (as well as other food, drinks and treats).
Into Adventure Play
I think we all walked in and said wow when we saw the play area. It's honestly the best play park I have ever seen. Made mostly from wood, it looks as though it is meant to be there amongst Windsor Park and the trees. It has all been so beautifully designed and built.
The first section is mostly aimed at younger children with water play, a sand pit, small houses and slides, a seated zip wire and easy to climb steps.
Further on is the large treetop play area which is honestly nothing like I have seen before. The design has just been so cleverly done with twists and turns, different ways to get up and down, rope bridges, a pole, metal climbing tubes, climbing frames and so much more.
Each activity is labelled to show how easy or difficult it is by these symbols:
Mouse – Small and Nimble. These are play areas for smaller people
Squirrel – Natural Climber. These are the intermediate parts which involve a little more activity
Owl – Bold and Brave. These are the more challenging parts of the play area for older children or for younger ones with help from an adult
Our little Mouse and Squirrel
We had a 9 year old, 5 year old and also my 3 year old niece along with us and all got involved in nearly everything on offer with my 2 being able to navigate the Adventure Play all by themselves. My niece did as much as she could alone and then tackled the larger areas with an adult.
Us adults really embraced this and also had a fantastic time playing and exploring – a great excuse to be a big kid for the day!
Facilities
There are tables and chairs around the perimeter of the smaller play area but it was tricky to find one so for a long time we had to stand when we needed a breather or a drink. Once a table became free we did have to jump on it so we could have a quick reset from playing whilst enjoying a hot drink and some really nice snacks from the kiosk. Note that you cannot take your own picnic in and no food or drink can be consumed within the play area itself.
The toilets here were absolutely brilliant. Accessible, large and each cubicle had an adult toilet, a child-sized toilet, a changing table as well as a baby seat, they've been really well thought out and are really helpful to any parent.
In terms of accessibility, the website currently states that the AccessAble guide for Adventure Play will be available very soon, however, Adventure Play does have equipment that is suitable for wheelchair users as well as those with sensory needs. They also offer sessions with reduced capacity for those who need it to be a little bit quieter – check out the website here for these.
Overall Thoughts
I have to say this play area was absolutely brilliant and somewhere I would definitely take the children to again, I may even book a second visit this summer holiday. I didn't think I would be saying that with the price points but those 2 hours went by really fast and we were all reluctant to go because it just felt as though we still had more to explore and experience. I think this may be because it was our first visit and it's a lot to take in and discover – perhaps the venue should reconsider making a first visit a 3-hour slot? I'm sure on subsequent visits 2 hours will feel enough.
As Adventure Play is currently very new the equipment, facilities and seating etc are all in impeccable condition, clean and work well so there wasn't anything I could fault there. From a sustainability view, I loved that the design had been carefully thought about, that it looked as though it belonged within the woods, that it was mostly made from wood and that there was a big nature theme but the one niggle I had that I have to mention was the use of artificial plastic grass. I know real grass would probably be incredibly hard to cut/keep short, would lead to a very muddy play area and can be tricky with allergies but the use of plastic in such a lovely outdoor, natural setting just didn't quite feel right. I wonder what other ideas had been brought to the table? Anyway, that was my only negative, everything else was spot on.
Adventure Play is a great day out for the whole family and afterwards, you can spend the remainder of your time wandering around and exploring Virginia Water which is free to access.
To find out more about Adventure Play and to book tickets check out their website here.
Pin for later: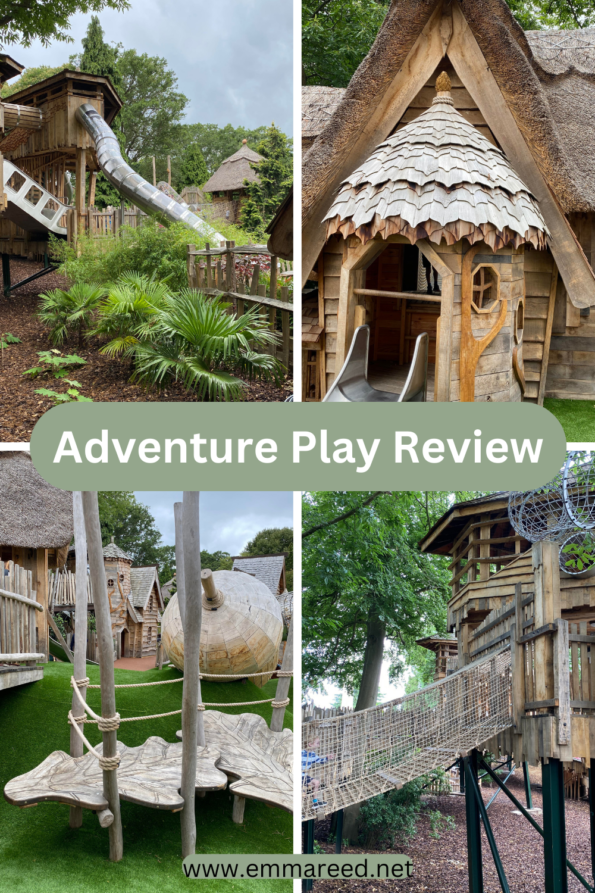 If you enjoyed this post you can follow more of our life, opinions and antics over on Facebook, Twitter, YouTube and Instagram. Plus feel free to come and join in with my parenting group 'From One Parent to Another' on Facebook.
If you'd like to contact me you can either leave me a comment or drop me a line via my contact me page.
For other topics similar to this one check out these suggestions below…