How We Spent a Wonderful 3 Days In Tromso
As parents of 2 boys, we very rarely go away as a couple. Not because we don't want to but costs, childcare, finding the time and so on all factor in but this year we made an exception because this year I had my 40th and I knew I wanted to do something absolutely amazing to mark the occasion. And after some careful thinking, I decided to tick one of those bucket list must-sees off of my list – the Northern Lights. A little bit of research quickly told us that Tromso in Norway is the best place to see these in October and so our destination was set. We heavily planned our stay, booked the time off, arranged childcare and pet sitters and honestly had the time of our lives. Here's just how we spent 3 days in Tromso…
Travel
Tromso is located in the very north of Norway and, at present, no direct flights go from the UK up to their airport (they are working on a larger international airport to make this possible in the future). This means that our first day was mostly taken up with travel. We drove to and flew from Heathrow (which had a delay) to Oslo and then caught a second flight to take us to Tromso. The flights aren't long at all – the first was around 2 hours and the second around an hour and 50 minutes with it all being pretty straightforward (except for the flight from Oslo to Tromso not being a "connecting flight" which meant going through all of security again).
If you have followed me for a while you will know that we try our best to reduce our carbon footprint and so we offset our flights in the same way we did earlier on in the year.
Tip: Make sure you look out of the window as you fly over and into Tromso
Once in Tromso, there is an allocated taxi area which was clearly signposted and we literally walked straight up and had a taxi immediately. The drive is amazing with beautiful scenery as well as taking you through a mountain!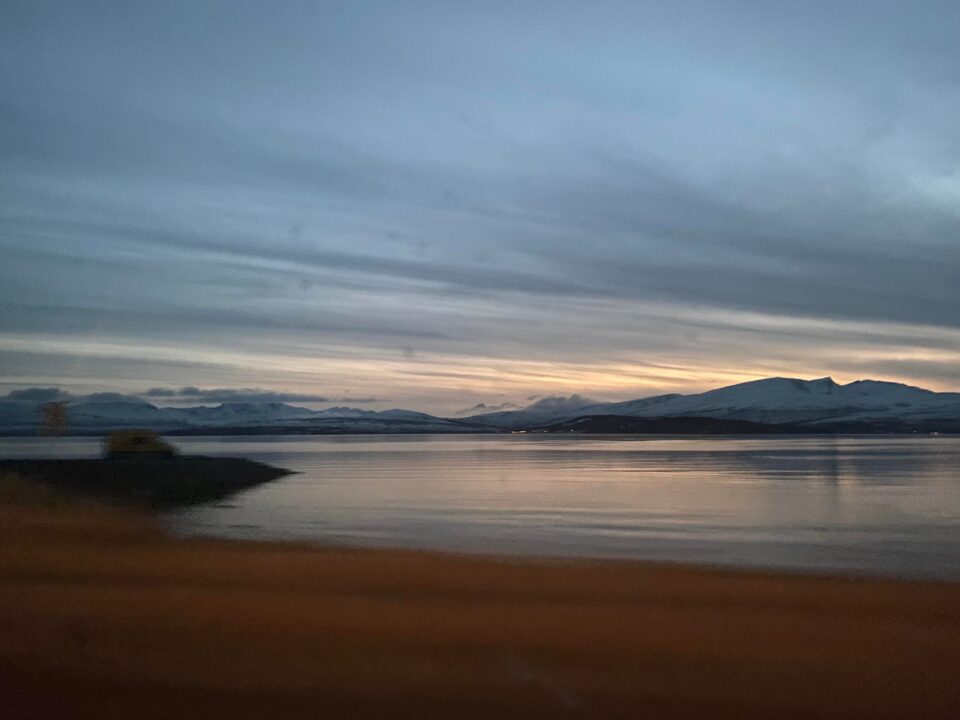 The ride to the town is only around 15 minutes making it really quick and simple to get to your chosen hotel. We chose the Radisson Blu which we found via ecohotels.com.
What We Got Up To
Fjellheisen – Cable Car
As mentioned, we planned our trip carefully and pre-booked all of our chosen activities for the 3 day stay. We arrived at our hotel at around 5pm which gave us a little bit of downtime before heading out to the Fjellheisen (cable car) via a short taxi ride.
The Cable Car runs from Solliveien in Tromsdalen up to the mountain ledge Storsteinen (421 m above sea level) in just four minutes taking you up to the most stunning views of Tromso lit up at night or of the Fjords, surrounding islands and mountains during the day. There is a restaurant located at the top which serves meals as well as hot and cold drinks making it a lovely spot for dinner and a great way to warm up after taking in the views outside.
We arrived in Tromso on 27th October so the weather wasn't yet too cold in the day but can drop below freezing at night so packing base layers, thermal socks, good walking/snow boots, decent hat and gloves plus plenty of thick jumpers and trousers is a must. Up on the mountain, there was a good amount of snowfall underfoot and the higher you ventured, the colder it became so you definitely do not want to get caught out. And the more comfortable and snug you feel, the longer you have to take in those absolutely mindblowing views. If you visit Tromso, I highly recommend doing the Fjellheisen at night.
Tip: Take a taxi's phone number when you are dropped off as no taxis wait here at night
Fjord and Whale Watching Boat Trip
The next day we caught our pre-booked boat tour with Whale and Arctic Wildlife Safari at 9am to set off on an 8 hour trip around the beautiful Fjords to take in the sights and also in the hope of seeing some of the whales that visit this part of the world. It has always been my dream to see Orcas in the wild and with the start of November usually being their time of arrival we kept hold of a bit of hope that they may arrive early. Other cetaceans that come to these waters include Humpback Whales, Harbour Porpoises and Fin Whales.
I initially felt like 8 hours on a boat would feel far too long and, as someone who suffers from travel sickness, I wasn't sure I would manage but you cannot come to a magical place like Tromso and not venture around the Fjords and thankfully, it wasn't too choppy (we did pack the travel sickness tablets just in case though!)
The boat trip we chose provided hot drinks along with a selection of snacks downstairs but it didn't provide lunch so do check the list provided on the tours prior to booking. They also had experienced and knowledgeable staff on board who gave a talk and were available to answer all of your questions. There were plenty of places to sit both upstairs (outside) and downstairs (inside) as well as standing viewing areas.
The temperature outside felt extremely cold at some points, especially with the sea air so again, like above, make sure you are prepared clothing-wise. Our boat did also provide thermal boiler suits for those who needed them.
For me, the whole boat trip was simply magical. The mountains looked like they had popped straight out of a painting, the small villages looked so incredibly quaint and the atmosphere was like nothing I had ever experienced before. There was so much to try and take in but it felt almost impossible to do as it just felt surreal. I have never visited anywhere like this before and it is definitely locked in as a core memory!
As for the whales, it, unfortunately, was too early for the Orcas but we did see the Humpback Whales, mostly having a rest and a snooze so they weren't overly active but to be that close to such magnificent creatures was enough for me.
Northern Lights Tour
Once back on solid ground, we only had a couple of hours until we were off on our next adventure – to see the Northern Lights. We were collected by a minibus (1 of 2) and joined other hopeful travellers from all over the world to set off on a lights chase. Our tour guide was cheerful, informative, fun and knowledgeable so we felt confident he would find the best spot that night. Having stopped a couple of times to check the sky, he quickly decided on a popular destination and sure enough, luck was on our side.
We stayed here for a few hours taking photos, watching the lights change, listening to our guide talk about how and why the Northern Lights happen and enjoying hot drinks and snacks around a campfire provided by the company. It was an absolutely wonderful experience and I felt incredibly lucky to have seen the lights on the very first attempt. (More on this plus photos below)
Tromso
After a very late night (the tours do go on until the early hours to ensure you see all they have to offer) we decided to take a slower day and stroll around Tromso to see what it had to offer. We missed breakfast at the hotel so our first port of call was to find somewhere to have lunch. There are plenty of lovely venues but we decided on a cute and cosy cafe. The food was fab. I also loved that they used a reusable tea bag! This area of the world is very eco-conscious and we could see that in many ways during our stay.
The snow set in on this day making it quite hard to see but we were determined to squeeze in as much as we could into this short stay and I'm glad we did because Tromso really is such a fantastic place to visit. With its statues, picturesque buildings, lovely shops, quirky architecture, fun museums and stunning scenery, there is something for everyone.
As we were fairly chilly and wet from the snow, we decided (well, I persuaded my husband) to venture into the Troll museum. The only Troll museum in the whole of Norway! It just had to be done, didn't it?! Norway is famous for its Troll stories and the museum was such an eye-opener, I had no idea Trolls played such a big part of their culture and history. I went in thinking it would all be a bit silly but we both really enjoyed ourselves. If we'd had a bit more time I would have loved to have looked around other museums and attractions.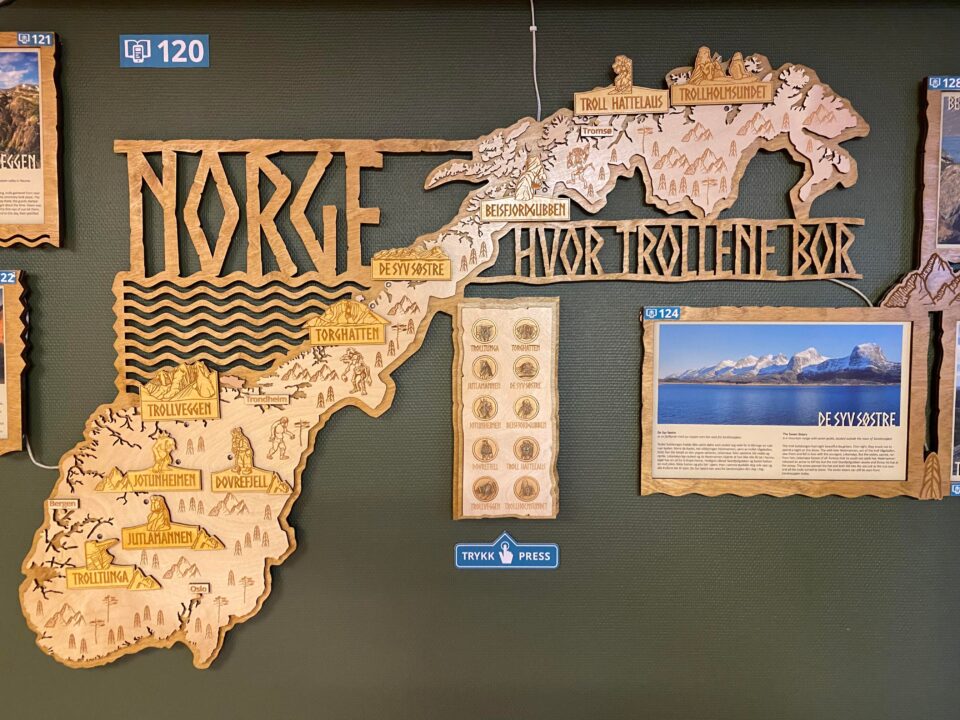 Northern Lights Tour (take two!)
No, we weren't being greedy but it is not guaranteed that you will see the lights and so, being the very organised couple that we are, we booked two tours just in case. And it turns out you can't cancel so we still went along on this even though we had seen the Northern Lights the night before.
This trip was with a different tour company so I can at least provide you with some comparisons… And you are going to see why this one trumps the first one.
Each tour can vary and this one started at 6pm, so much earlier than the previous one. The reason for this is so that the guide has time to chase those lights as far as is required and in this case, we happened to chase them across the border into Finland. That's a 3 hour drive in case you were wondering.
The first differences to note between this tour and the first one were that the bus was far more comfortable and more modern, the guide provided all of his knowledge on the journey as he wanted to give us plenty of time to see the lights once we reached our destination plus they provided snow suits and boots (which were most definitely needed!) as well as hot soup. Like the first tour, they also had hot drinks and a campfire.
The destination this time around was very desolate with no light pollution to impose on the Aurora Borealis show. In fact, at one stage, we were standing on a frozen lake which sits between Finland, Norway and Sweden. It was definitely the type of place where I had always imagined viewing the Northern Lights from. And, even though our tour guide wasn't too sure if we would see the lights due to the snow clouds, the night did not disappoint and for the second time, we got to see a wonderful display over several hours.
I believe most tours offer photos as part of the experience which is included in the price along with their other extras such as food, drinks, snow suits and so on. I would recommend checking this along with reviews prior to booking. Now, taking photos of the Northern Lights is not an easy task, especially with a mobile phone. Yes, I did see some people getting some fairly decent shots once they adjusted their settings but my phone just wasn't up to the job which is why having professional ones taken is so important.
Here are the best from my phone:
By the point of going on this second trip, we hadn't yet received our photos from the previous night but I was sure we had some great images to come because the Aurora Borealis had looked so impressive, perhaps even more so in places than on this second night. However, this is where the biggest comparison comes into play and why a good photographer is essential to have on your tour.
Tour one professional photos:
Yeah, so they are ok, better than what my phone could pick up but now take a look at what the second tour photos look like:
So, you can probably clearly see why I am incredibly grateful that we couldn't cancel this tour and even more grateful for our wonderful tour guide. This company is called Wandering Owl and I can highly recommend them. I now have the memories and the photos to treasure.
A Slow Morning
After getting in at around 3:30 am our final morning was spent enjoying a lovely breakfast at the hotel and then making the most of our absolutely mesmerizing hotel room view before leaving for the airport.
Tip: You can choose a water view when you book
We squeezed so much into such a short space of time but I wish we'd maybe had a day or two extra because I'd have loved to have taken in more of Tromso and perhaps gone on a dog sled tour or seen the reindeer. You can check out more on the Visit Tromso website.
Overall Thoughts of Tromso
A simply wonderful 3 days in Tromso and I cannot wait to go again!
Pin for later:
If you enjoyed this post you can follow more of our life, opinions and antics over on Facebook, Twitter, YouTube and Instagram. Plus feel free to come and join in with my parenting group 'From One Parent to Another' on Facebook.
If you'd like to contact me you can either leave me a comment or drop me a line via my contact me page.
For other topics similar to this one check out these suggestions below…