From India To Your Table: try this delicious Basmati rice dish
*Collaborative Post
Rice is one of those ingredients widely included in almost every meal worldwide. Maybe you have cooked it at least once in your lifetime, or tasted delicious dishes with it as the star. As a vegetarian, this noble ingredient is a common item on my grocery list, and I have countless rice recipes to please everyone.
Its texture, mild flavour, and adaptability make it possible to include it in any meal. I prepare it in different dishes: sugary, salty, desserts, and even beverages.
It is no secret that rice is an important part of daily meals worldwide, and even some regions have traditional dishes with rice as the main component. Undoubtedly, it is the preferred staple for most cuisines.
Asia is in the top list of the regions of production and consumption of rice. Almost 90% of rice consumption worldwide belongs to this oriental region. Needless to say, Asia was the birthplace of this cereal, thousands of years ago.
There is a wide range of rice varieties. Each one has its characteristics and is used for specific dishes. The most common kinds include:
Jasmine rice.
Koshihikari rice.
Broken rice.
Basmati rice.
Black rice.
Jasmine and Basmati are the ones you may have eaten. Jasmine is typical of Thailand. Khao op sapparot, Nasi goreng, Thai fried rice are just some of the dishes you can eat with jasmine rice.
Basmati rice is commonly used in India. Some of the most popular dishes are Dum Biryani, Pulao, and Jeera Rice.
Feeling India Through Rice
Asia is the biggest continent in the world. Its size also translates into a vast variety of food preparations but they are well-differentiated by region. Through food, you can identify specific countries. For example, Indian cuisine is characterised by the use of autochthonous spices, herbs, fruits, vegetables, and grains.
Most Indian meals are recognised by including strong spices like chilli peppers, garlic, ginger, garam masala, black mustard seeds, cumin, turmeric, among others.
Indian meals show the diversity and influence of Hinduism and Islam. Vegetarianism is practised all over the country, making rice and grains the main staples used in countless food preparations.
The people here like to cook with long grain rice, specifically Basmati rice. This variety is very aromatic with a pandan-like flavour (similar to pop-corn), firm, slender and dry texture. It is cooked by boiling, but people tend to soak it first for 30 minutes to make rice absorb water and cook without breaking and changing its shape.
Indian Rice Dishes
Dum Biryani, Pulao, Khichdi, Tomato Rice, Bisi Bele Bath, Lemon Rice are some of the most popular Indian rice dishes. Let's cook one of these preparations, and start feeling Indian flavours at home. Then, you can practice with more complicated recipes and become an Indian culinary expert.
Pulao
It is a one-pot meal with Basmati rice, like a pilaf. Rice is cooked with herbs, spices, and broth. There are two versions, one including chicken or mouton, and the vegetarian version. Let's make this one.
Vegetable Pulao
Ingredients (4 servings)
1 ½ cups of basmati rice.
2 tablespoons of ghee.
2 ½ cups of water or vegetable broth.
1.5 inches of crushed ginger.
2 green chilies.
4 cloves of garlic.
½ cup of chopped onions.
½ cup of chopped potatoes.
¼ cup of chopped carrots.
1/4 cup of green peas.
¼ cup of chopped green bell pepper.
¼ cup of sliced baby corn.
1 bay leaf.
¾ teaspoon of cumin.
4 green cardamoms.
1 pinch of nutmeg.
1 small star anise.
1 strand mace.
Salt to taste.
Preparation:
Rinse Basmati rice in water until it is clear. Soak for 30 minutes. Then drain rice and reserve.
Make a paste in a mortar-pestle with green chilies, garlic, and ginger. Reserve for later.
In a saucepan, pour ghee and the spices: bay leaf, cumin, cardamoms, mace, nutmeg, and star anise. Cook at medium heat.
Incorporate onions, cook for a few minutes. Add ginger, garlic and green chili paste. Continue cooking.
Add potatoes, carrots, green peas, and baby corn. Sauté for 2 minutes.
Incorporate rice, and reduce heat.
Pour water or vegetable broth. Stir very well.
Add salt to taste.
Cook rice until water is completely absorbed.
Let it stand and serve.
Pulao is often served with raita which is a yoghurt-based sauce with mint, cucumber and cilantro.
I hope you enjoy giving this Basmati Rice Dish a go and adding a little more variety of rice to your meals.
Pin for later: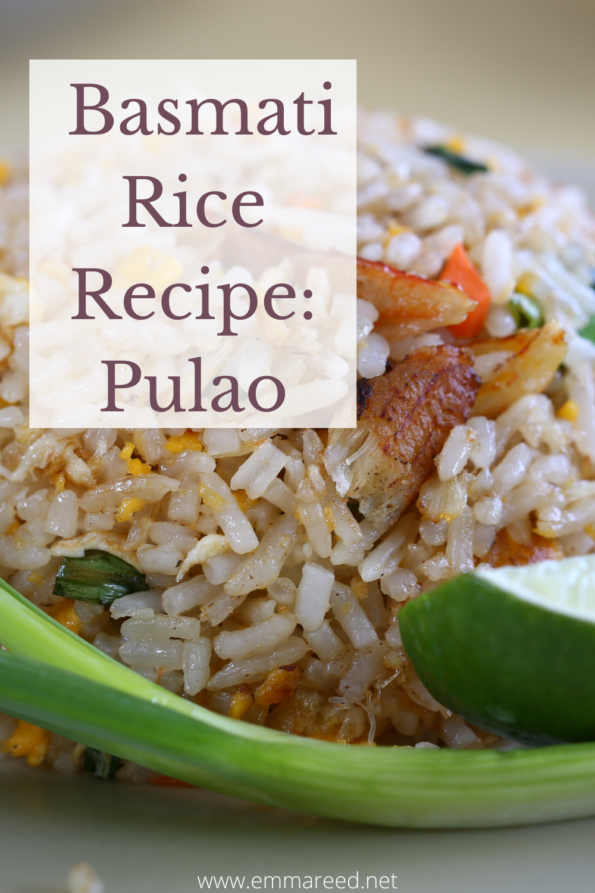 If you enjoyed this post you can follow more of our life, opinions and antics over on Facebook, Twitter, YouTube and Instagram. Plus feel free to come and join in with my parenting group 'From One Parent to Another' on Facebook.
If you'd like to contact me you can either leave me a comment or drop me a line via my contact me page.
For other topics similar to this one check out these suggestions below…