How To Make Rainbow Rice For Sensory Play
Rainbow rice makes a great sensory play addition, perfect for pouring, sifting, putting through a sieve, weighing, scooping and feeling between fingers and toes. It is really quick and simple to make and, if stored correctly, you can continue to reuse it.
Ingredients:
Tools:
Freezer bag or something similar (you can wash out the same bag to use for each rice colour)
Pots for play
Sealed containers for storing
Method:
Measure out half a cup of white rice and pour this into a freezer bag.
Add 1/2 tablespoon of white vinegar.
Add 1-2 drops of your chosen food colouring.
Shake the bag until the colour completely covers your rice.
Leave to air dry for 30 minutes. In the meantime you can make other colours for your child.
**For future reference, feel free to save, pin or download this graphic.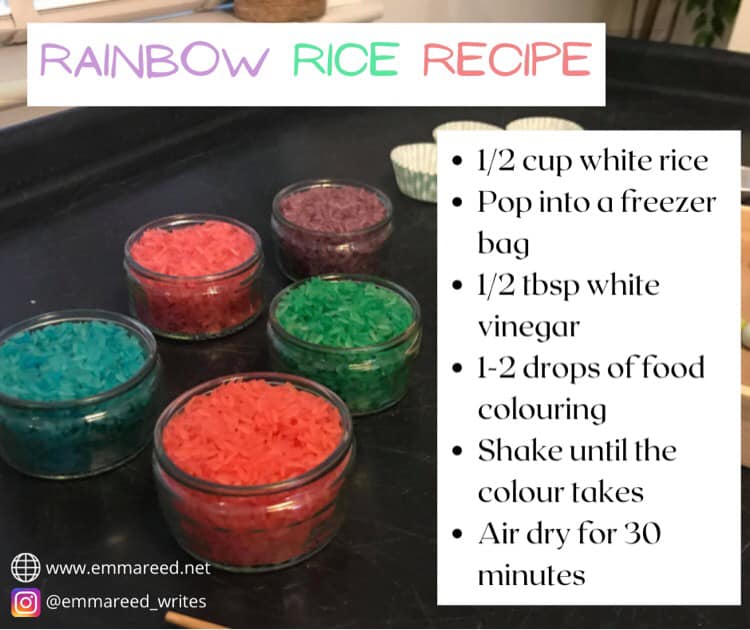 Once your rice has been played with, simply store in airtight containers for the next play session.
And if you like making homemade items for play, you may like my post on making homemade playdough.
Pin for later:
If you enjoyed this post you can follow more of our life, opinions and antics over on Facebook, Twitter, YouTube and Instagram. Plus feel free to come and join in with my parenting group 'From One Parent to Another' on Facebook.
If you'd like to contact me you can either leave me a comment or drop me a line via my contact me page.
For other topics similar to this one check out these suggestions below…