*Ad- Gifted Stay
Southsea is one of our favourite places to visit. We are so lucky to be just an hour away from this seaside town and with so much to see and do, each visit is always different from the last. When Henry Adams Holiday Lets asked us to come and stay in their Clearwater sea view apartment for them we were over the moon and with half-term coming up it made for the perfect time to visit– the coast isn't just for summertime!
The Apartment
The apartment is located in a Grade II listed building set right opposite the seafront which was absolutely perfect for me– I adore the sea. When I stepped inside, I could not believe how stunning the views were and with double french doors looking out at the sea from the living area, I was in my element.
With three double bedrooms, a bathroom, en suite, fully equipped kitchen and large living room the apartment is ideal for a large group or family to stay in.
That view from the sofa just had me mesmerised. I mean there is a large TV but who needs that when you can watch that tide?
Oh, and if that isn't enough, just look at that bath!! If you are curious as to whether or not I got to enjoy it, well, you can check out this photo on Instagram.
The apartment was just spot on. Close to the beach, the pier (with the arcades!), within walking distance of so many fantastic activities along the seafront as well as being a quick drive away from Gunwharf Quays shopping centre; you could even choose to hop on the hovercraft and visit the Isle of Wight for a day if you have the time. We could have easily stayed for a week and not just a weekend!
What We Got Up To
As I mentioned, there is just so much to choose from down in Southsea and as regular visitors, we are pretty familiar with a lot of the attractions so we chose the ones that we love the most…
Model Village
The model village was my favourite place to visit when I was a child which is why I love taking my own children there now. With working electric trains, miniature buildings and people, a castle, an ancient tunnel plus a quiz to complete on your walk around there is plenty for children of all ages to enjoy. The weekend in Southsea we chose was the start of October half term which meant there was a lot of spooky goings-on down in the model village! (If you fancy seeing how I freaked out in the scary tunnel, keep scrolling down to our video!)
The Pier Arcades
You can't go to the seaside and not do the arcades now, can you? There is something for everybody here and it was a great place for us to head to when the heavens opened.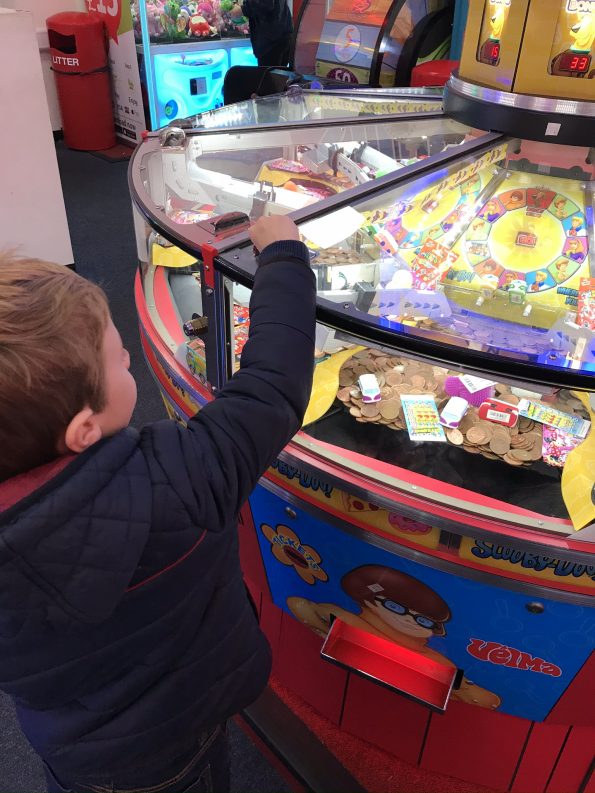 Gunwharf Quays
Gunwharf Quays is a factory outlet shopping centre full of a wide variety of shops, bars and restaurants, boat excursions, activities for the kids as well as being the home of the famous Spinnaker Tower. Having been here countless times, I had never actually been up the tower so we thought we would make this our aim for the weekend.
"Experience the south coast's most spectacular view. Emirates Spinnaker Tower stands at 170 metres tall, offering breath-taking 23-mile views over Portsmouth Harbour, the city, the Solent, the South Downs and the Isle of Wight. The iconic destination boasts a high-speed lift and three sky-high viewing decks. Venture across the thrilling glass 'Sky Walk' at 100 metres above sea level"
The views were just incredible and the experience was fantastic for both the children and us. The tower actually goes up from this level to a cafe and then up again to a cute indoor garden with an even better view!
Back down on solid ground, we took the time to enjoy the shops, a lovely meal overlooking the boats, then the kids enjoyed a train ride which is new to the centre, as well as a go on a merry-go-round and Jake had the chance to drive his own boat on the little lake. It was such a fun-filled day!
Pier Funfair
On our last day, we made a beeline for the pier again to enjoy their funfair. We could see this from the apartment window and the boys had their heart set on it after I took them there in the summer holidays. The pier was in disrepair for such a long time and it is so nice to see it back to its former glory and providing joy for everybody here again.
The Beach
The best free fun anyone can have is visiting the beach and I will happily walk along one in all weathers. The sea air just makes you feel so alive, doesn't it? One evening we were incredibly lucky to see the sun begin to set from the apartment so we made a quick dash across the road to fully experience it. It was an evening I will never forget and it made our weekend in Southsea…
Our weekend in Southsea was absolutely amazing and we loved getting to spend this quality family time together. I'm sure you can imagine how many photos I actually took and I obviously couldn't share all them here (well I would but I'm sure it would bore you!) So instead, if you'd like to see more I have also made a YouTube video of all 3 days there.
If you are ever looking for a great British seaside holiday or trip I would highly recommend Southsea and an apartment right on that seafront is just the most perfect location.
Thank you Henry Adams Holiday Lets for our weekend in Southsea, we will definitely be back!
*We were invited to stay in the apartment for a weekend in Southsea in exchange for social media shares and a blog post. As always opinions are my own and are honest. For further information, you can refer to my disclosure page.
Pin for later:
If you enjoyed this post you can follow more of our life, opinions and antics over on Facebook, Twitter, YouTube and Instagram. Plus feel free to come and join in with my parenting group 'From One Parent to Another' on Facebook.
If you'd like to contact me you can either leave me a comment or drop me a line via my contact me page.
For other topics similar to this one check out these suggestions below…