*Ad
When it comes to finding clothing I have several items I always want to be able to check off a list: that it will last, that I feel comfortable (as a busy Mum we all need this), that it will wash well, that the company uses ethical practices/factories, that they give back and think about our environment. Having moved away from fast fashion stores, I am always on the lookout for better places to shop at and when Rydale contacted me to review some of their clothing I was really excited about what they had to offer…
About Rydale
Rydale is a British born clothing company that all began back in 1954 when John Nichols launched a lifelong project to create the pinnacle of country and outdoor clothing. Over the last 47 years and now into its 3rd generation, the family has continued to provide clothing with style, reliability and quality from their home County of Yorkshire.
"Being Yorkshire born and bred we are passionate supporters of British Manufacture, British Farming and yes, British bacon. Our extensive range of ladies waxed jackets, men's Tweed coats, body warmers, outdoor country clothing and flat caps are all being made right here in the North of England*. We have been supporting British manufacturers since the beginning and we are not going to stop"
Rydale
*The items which are not produced here in the UK, are manufactured in ethical factories in other countries such as Turkey and Bangladesh (I did check this with Rydale prior to writing this review).
All designs are thought of by the family members as well as via feedback from the customers which are then put through their paces right there on the Yorkshire Dales.
"Through streams and becks, over stiles across moorland, all of our products must perform. After a hard day, we will stop off at the village pub to debate over which of our favourite local places each new jacket or jumper should be named after and why"
Rydale
The Nichols family believes that Rydale clothing and the countryside go hand in hand and feel a strong duty to protect and reclaim the British countryside for all of our future generations to enjoy. Over the last 5 years, they have invested heavily in waste management and recycling and as of May 2012, they are proud to say they have <0.5% contribution to landfill by recycling virtually all of their company waste. They also offset their small carbon footprint by planting trees and have so far planted over 10000! They know that plastic is a big environmental problem and are now well-known for their seasonal reusable bags for life that many customers enjoy collecting.
Rydale provides a great range of British country clothing, footwear and country gifts, and rural style shirts and accessories that are perfect if you love sports, getting out and about, riding, farming, fishing, walking, etc.
Rydale Review
I chose 3 items to create an outfit that I could easily wear day to day, running around after the kids, for the school run, out on dog walks and for days out – skinny crop jeans, a sweater and canvas shoes.
Skinny Crop Jeans
I love jeans and live in them every single day. I just feel comfortable in a pair of jeans, they go with everything and they are hardwearing. Finding a good pair is quite a tough job which is why I was so pleased to find that not only did the Rydale skinny crop jeans fit well but they also feel great.
Made from 98% cotton and 2% elastane they are soft yet durable and move with your body. In terms of sizing, Rydale does recommend that you size up to get the right fit. I chose a size 10 as I vary from 8-10 in shops. The fit was snug at first on my thighs but this gave after a couple of wears. The waist fits nicely but is very low rise so I needed a belt just to secure them for when I am bending down for one of the kids. The cropped cuff is shown as being worn down on the website but I really love the turn up look so opted to wear them this way.
Care – The jeans can be machine washed up to 40° but should not be tumble dried.
Price – At time of writing this the jeans were priced at £14.99 down from £25.00
Embroided Sweatshirt
When I saw this sweatshirt on the website I knew it was for me – grey and with dogs printed on it, perfect! As with the jeans, I went for a size 10 and it fits perfectly, which is great because as somebody with very broad shoulders, I struggle with sweaters like this as the arms are often not long enough. Made from 65% cotton it is nice and stretchy meaning it can adapt to your body shape. It is also incredibly soft, warm and comfortable making it the ideal jumper to grab for a chilly school run or dog walk.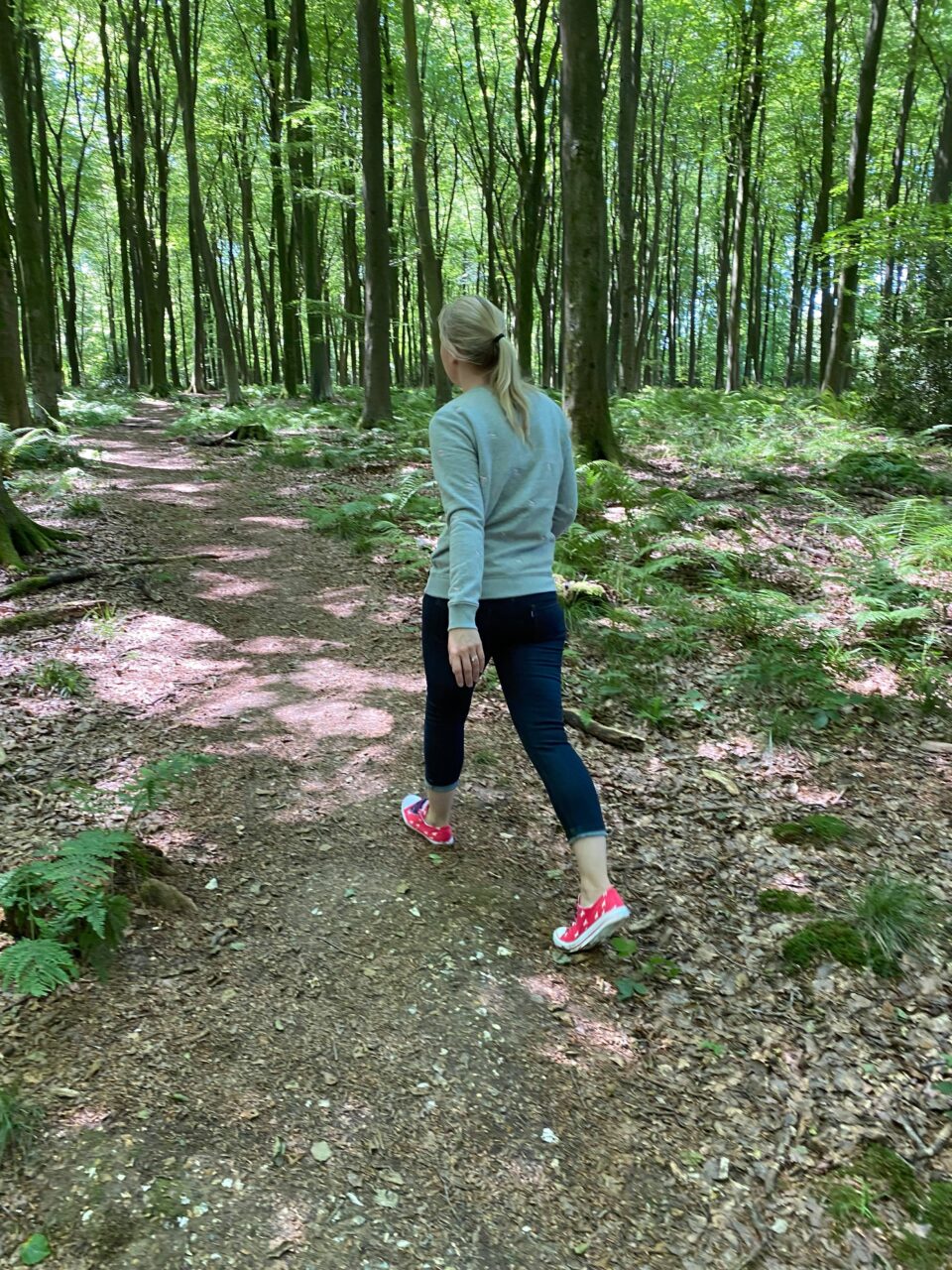 Care – Wash at 30°, do not tumble dry or dry clean.
Price – At time of writing this the sweatshirt was priced at £32.00
Canvas Trainers
Like jeans, I live in canvas shoes. They are easy to get on and off, they are comfy, go with most outfits and can be easily cleaned so when I'm looking to buy a pair I need to know that they will last. The Rydale Roxby canvas trainers should most certainly do that…
"Crafted from the most luxurious cotton canvas and back in with a brand new range of designs by popular demand, the Roxby trainers is a modern take on a classic plimsoll that comes in a range of pretty hues and prints"
Rydale
I mean comfort comes high up but so does design and I just could not resist this funky dog print! Although I'm not usually a bold colour kind of person, these look fab on and are just so much fun. I may also have my eye on the grey ones too!
I wear a size 6 shoe and went for this size which is perfect on length but they were a little snug on width (I do have wide feet so I am used to this). After a few wears they soon began to give and are very comfortable underfoot. They also come with spare silver laces to give them a different look. I do love these navy ones with the contrast against the red canvas and blue metal eyelets.
Care – Easily cleaned using a cloth and water. I love using bicarb for bringing grubby rubber back to its former glory. You can see my Instagram reel on this here.
Price – At time of writing this the trainers were priced at £14.99 down from £19.99
Overall Thoughts
Rydale clothing are ideal if like me, you want durable, reliable clothes that are adaptable and also timeless. I need my clothes to last me years and years both for monetary reasons as well as environmental ones. If more of us shopped with UK companies, with companies who care about what they are making, who care that their clothing lasts and doesn't go out of fashion then we would be well on our way to making a difference. These few items will see me through so many activities, many seasons and can easily be worn in different ways. I love the fact that they can create an individual style whilst being completely practical.
To see what else Rydale has to offer you can visit their website here. Rydale Clothing is also stocked in all Yorkshire Trading stores. The Yorkshire Trading Company has a growing network of 22 retail stores from Northumberland to Leicestershire and you can view the full list on their stockist page.
*I was sent these items by Rydale Clothing in exchange for an honest review. As always all opinions are my own. For further information please refer to my disclosure page.
Pin for later:
If you enjoyed this post you can follow more of our life, opinions and antics over on Facebook, Twitter, YouTube and Instagram. Plus feel free to come and join in with my parenting group 'From One Parent to Another' on Facebook.
If you'd like to contact me you can either leave me a comment or drop me a line via my contact me page.
For other topics similar to this one check out these suggestions below…