Zero Waste Week: Tips For Shopping at a Refill Store
This week I have written about getting started with reducing waste as well as talking about reusable products but one of the biggest areas we produce the majority of our household waste is within our food shopping. Packaging is vital in keeping our food fresh and hygienic but so much of it still isn't recyclable and is plastic. Reducing your waste here can be very tricky but with the rise in refill stores coming to towns, cities and high streets, we all now have a better way of shopping zero waste.
With refill stores still being very new to many people, the whole process may seem a little daunting so I thought I would provide you with a few tips from myself as well as from a refill store owner.
What is a Refill Store?
A refill store or zero waste shop is a store that proves refillable options ranging from shampoo to cleaning products, food and cereals, washing powders and more. They will bulk buy in this stock which hugely reduces the amount of packaging used and means you can fill up using your choice of reusable containers and walk away packaging free. The majority of these stores will also sell other amazing eco products, they will work closely with local businesses by stocking their products as well as offering ethically sourced items.
What to Expect When You Go In
The first time I stepped inside a refill store I remember feeling a little overwhelmed and that's not unusual. We are all so used to going into a supermarket and picking up our favourite brands which are already weighed out and fully packaged. We are used to shopping for ourselves and not having to ask for help. We are certainly not used to knowing what grams of food we need.
A refill store is quite the opposite but in a really good way for our environment. So what should you expect?
Friendly, helpful staff
A wide range of foods and products to choose from
Food in plastic dispensers which will either be used by yourself or by the staff depending on the store
Image courtesy of It's All About Eco
What to Take
Before you visit a refill store it is advisable that you make a list of what foods you need and perhaps consider in what quantities. For example, if you have a packet of pasta still in the cupboard, check what size you usually buy to gain an idea of how much you will want to ask for. If you are working on a one-off dish/recipe and only need ingredients for that, note down the quantities and take this with you, after all, you are aiming for zero waste!
Other items you will need include reusable containers (whatever you like/have at home) as well as reusable bags or perhaps a shopping trolley to carry it all home in.
Tips From a Store Owner
Bunmi owns and runs her refill store It's All About Eco in Sheffield and online. She has a passion for reducing waste, living more sustainably and choosing the right foods to benefit your health. Her store sells everything from bathroom refills to food refills, eco dental care products as well as hair care products, skincare products, home eco products, eco cleaning products, home health test kits and so much more.
I asked Bunmi if she could provide me with some tips for shopping in a refill store and this is what she had to say.
"I would recommend that if you are new to refill stores to just pop to your local one first to have a reccy of what they do and sell. You can ask the staff questions, see how they run their store and see what they have to offer. When you return to the store for your refills don't worry about what your containers look like – I personally love to see somebody reusing all their old containers over bringing in fancy glass jars because repurposing is what sustainability is all about. Glass jars can also be heavy to carry home so think about what containers and tubs you could manage with. Bread bags, old bottles, old takeaway containers are all great choices.
The staff in refill stores are there to help so do have a chat with them, they will be knowledgeable on all of their products and they love a bit of sustainability talk! If you need help with understanding how much food you will need, help with the scales, help with knowing how to prepare the dried beans, they will be able to answer all of these questions for you.
At the end of the day, refill store owners do what they do because they have a passion for the environment and reducing waste so they are really happy to see new faces entering their store."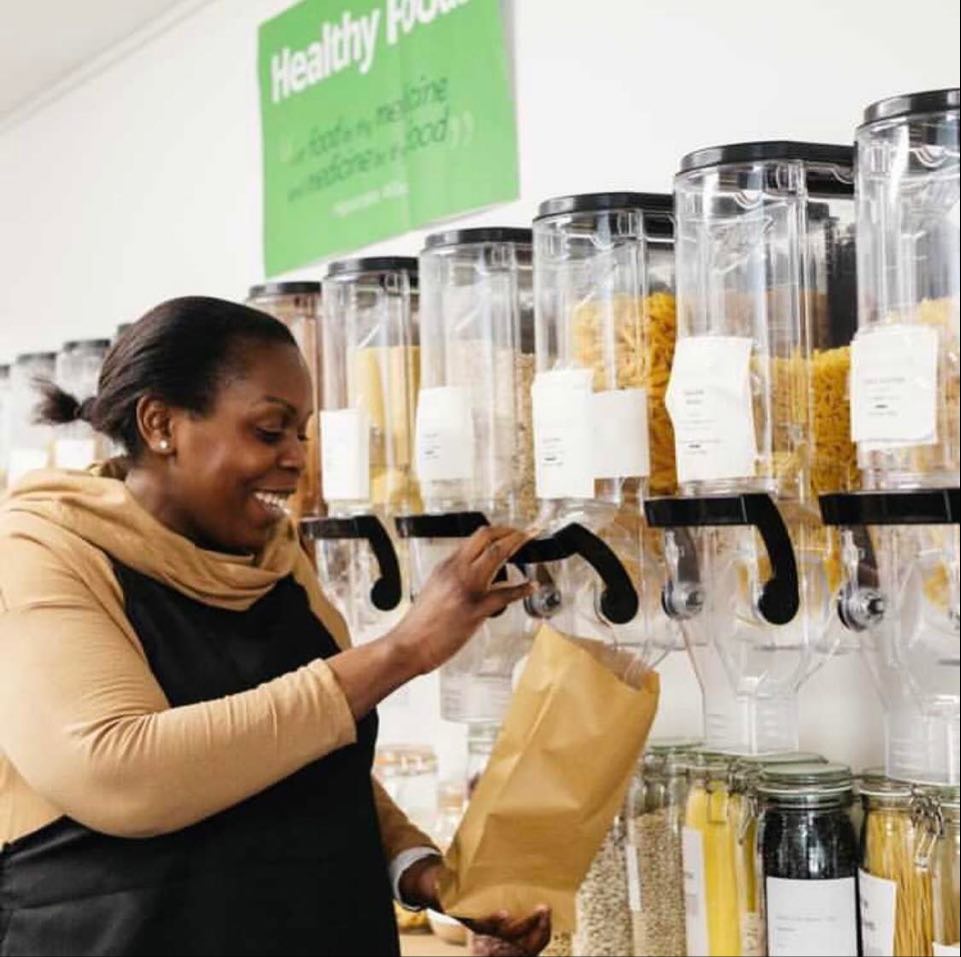 Image courtesy of It's All About Eco
If you'd like to find out more about this lovely company you can do so on their website and Instagram.
Can I Shop Online?
To make life easier, to make refilling more accessible and to save on having to carry heavy loads home, many refill stores do now offer online services, yes. Check your local store's website and see if they offer this but if not, others that aren't local to you will be able to offer nationwide delivery just like It's All About Eco.
Refill stores are most definitely the future for us to reduce our waste and to protect our environment. Even if you can't get to one regularly or only do an online order every now and then, every small change will help. If you are going to visit one for the first time soon please do come and let me know how you got on.
Pin for later:
If you enjoyed this post you can follow more of our life, opinions and antics over on Facebook, Twitter, YouTube and Instagram. Plus feel free to come and join in with my parenting group 'From One Parent to Another' on Facebook.
If you'd like to contact me you can either leave me a comment or drop me a line via my contact me page.
For other topics similar to this one check out these suggestions below…