7 Top Tips For an Eco-Friendly Lunch On The Go
*Ad
When it comes to reducing waste one really simple way of doing this on a daily basis is by taking your own food with you to work/school/for a day out etc and avoiding pre-packaged items from cafes. But how do you stop using other single-use items that we often associate with a lunch on the go? Foil, clingfilm, freezer bags and so on? Here are some of my top tips and some fantastic eco-friendly products.
Take Your Own Cutlery
There is a lot of talk of ditching those single-use plastic cutlery options and replacing them with bamboo alternatives but the most eco-friendly thing you can really do is to use what you already have. We all have perfectly good cutlery in our kitchen drawers so just take this with you on the go instead.
Beeswax Wraps
I love beeswax wraps, they were one of my first eco swaps and are just so versatile. They can be used for covering fruit and veg, as a cover for plates and bowls, for keeping cheese fresh, for proofing dough and of course, they are perfect for lunch on the go. Beeswax wraps will keep your snacks or sandwiches fresh and safe inside your lunchbox and after use, you simply give them a quick rinse under the tap and you can reuse them time and time again. This 4 pack is by Bee Zero Waste from SaveMoneyCutCarbon and I really love the fact that the brand makes all their wraps from offcuts of fabrics which means they are preventing this waste from going into the bin and your order may well be completely unique.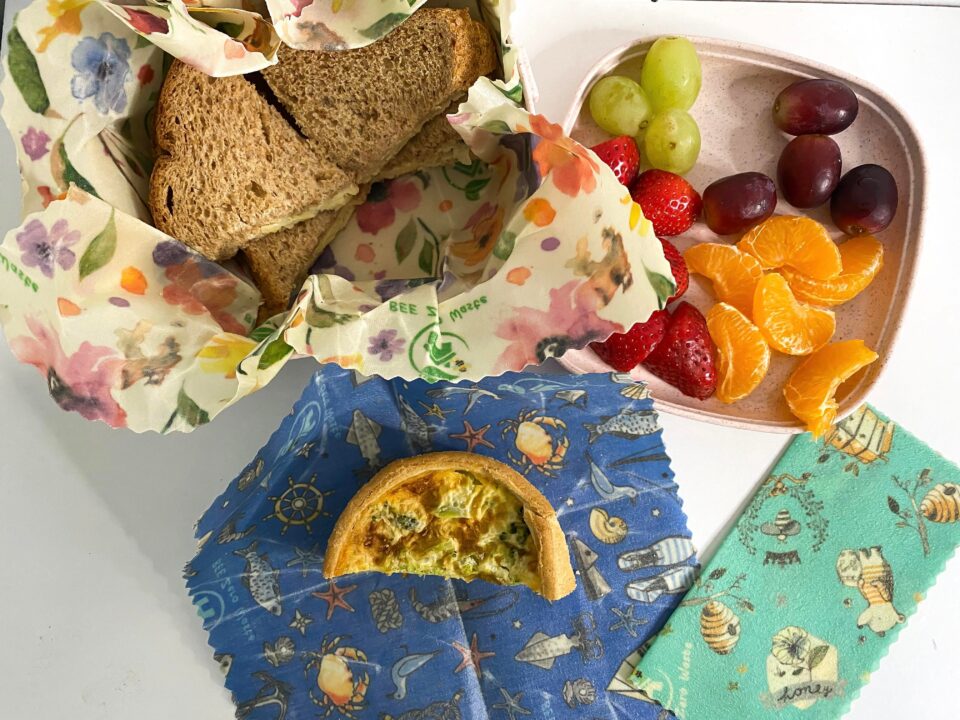 Reusable Lunchbox
If you buy yourself a well-made, eco-friendly and attractive lunchbox it will encourage you to always use it. I use the Huski Home Rice Husk Lunchbox and it is perfect for all of our picnic needs as well as for school packed lunches. This is made from rice husk which is a by-product of the rice industry, meaning that even when it finally reaches the end of its life it will completely biodegrade. However, it should take years to reach its last use as this is a sturdy and thick material.
What makes it really useful are the 2 separate compartments which allows us to fit all we need within it which means we have more room in our backpacks for other items. The top compartment is ideal for little snacks, fruit, raisins and so on and the larger, bottom compartment can fit in your sandwiches and crisps etc. It is ideal for both hot and cold foods as it is fully insulated.
Oh, and if you don't want to carry another larger bag you don't have to as the lunchbox has its own carry handles too.
Stasher Bags
We started using Stasher Bags earlier this year and they are a complete gamechanger when it comes to keeping your food fresh at home and when out and about. Available in a variety of sizes, these can be kept in the fridge, freezer, used in the oven or microwave and are also dishwasher safe. We often use these for lunch on the go because they are easy to get a lot into, they are lightweight, they are hygienic (made from medical grade silicone) and they are reusable. You can read my full review on them here.
Reusable Coffee Cup
Did you know that in the UK alone we throw away 2.5 billion coffee cups every year?! Most are not recyclable and those that say they are biodegradable or compostable quite often don't have a system to ensure this happens so the best route to go down is to invest in a good reusable cup that will last you for years.
Just like the Huski Lunchbox this Huski Home Reusable Travel Cup is made from rice husk making it durable, biodegradable and non-toxic. It is perfect for both hot and cold drinks and has a secure leak-proof lid.
Huski say:
"This insulated eco-friendly travel mug has twinned walls to keep your hot drink warmer for longer without burning your hands – or if you're more of an iced coffee kind of person it will keep your cold drink cool. The hinged splashproof and leakproof flip-top lip means your liquids won't splash about when walking or driving around. While the non-slip base stops the cup slipping"
Reusable Water Bottle
We all now fully understand the impact that our plastic obsession has been having on the planet and anyway we can reduce this is a win so whenever you need to leave the house make sure you fill up a reusable water bottle so you are never caught out. Most cafes/restaurants should be able to refill these for you or look out for refilling stations as more and more of these are now being installed in towns, cities and at attractions.
Repurpose What You Have
And my last tip is to repurpose what you already have. Remember it is only single-use if you choose to just use it once. There is no reason that you cannot wash up takeaway containers, plastic pots, plastic bottles etc and reuse these over and over again. Turn that item into a handy one, one that you can always grab on the way out and reduce your waste by giving it a new purpose. Having an eco-friendly lunch on the go doesn't have to be tricky, pricey or fancy, it just needs to work for you.
If you'd like to save more money on Beeswax wraps, Huski Home products, Stasher Bags or other eco swaps that will reduce your carbon footprint and household waste, why not sign up to the SaveMoneyCutCarbon Members Club where you will receive exclusive special offers, products and bundles, you can earn Planet club points, unbeatable prices, exclusive guides and so much more.
*This is a paid collaboration with SaveMoneyCutCarbon but as always all opinions remain honest and my own. For further information please refer to my disclosure page.
Pin for later:
If you enjoyed this post you can follow more of our life, opinions and antics over on Facebook, Twitter, YouTube and Instagram. Plus feel free to come and join in with my parenting group 'From One Parent to Another' on Facebook.
If you'd like to contact me you can either leave me a comment or drop me a line via my contact me page.
For other topics similar to this one check out these suggestions below…