Eco-Friendly Gift Wrapping Ideas
Wrapping paper. We've all used it, we've all binned it, we've all spent money on it for it to last just a few hours and yet how often have you stopped to think about the impact this tradition has on our planet? Here in the UK, we end up binning approximately 227,000 miles of Christmas wrapping paper each year. Now imagine what that figure may increase to worldwide, then add in every birthday, christening, farewell gifts, baby shower gifts…
It's hard to picture what all that would look like, isn't it? In short, wrapping paper is having a huge negative effect on our environment. You see, the majority of this will end up in landfill because it is so often plastic coated, shiny or has glitter meaning it is not recyclable. Add in the sellotape that you blindly use to hold it all together and there you are wasting around 40 million (yes, million!) rolls of this too. Our gift giving has hidden problems.
There are obviously better ways in which we could do this but it's not something that has been talked about much in the past because those retailers want you to buy this paper, the companies want your money and more importantly, they want it year after year after year.
So, what are the options to gift wrap in a more eco-friendly way? Let's take a look…
My Eco-Friendly Gift Wrapping Ideas
Brown Paper
This will still lead to waste, yes, but it can at least be recycled. Brown paper is plain and even if you add your own stamps you will still be able to pop it in the recycling bin. It may sound a bit drab but it can easily be dressed up with a beautiful ribbon, holly, lavender, leaves, fir cones, dried fruit, tied with string and finished off with a homemade label. The personal touch will really be appreciated.
Recyclable Wrapping Paper
Some retailers have now caught onto the fact that living more sustainably is incredibly important and this year I have seen more unpackaged, recyclable wrapping paper being sold than ever before. Shopping eco-consciously can sometimes seem like a hard task but if we seek out those shops who are making changes it should encourage more to take those steps too and finding eco wrapping paper should hopefully become the norm. Make sure that you also purchase some eco-friendly tape that is also recyclable and ditch that sellotape.
Tissue paper
If you receive a lot of deliveries or have wrapping from previous gifts from others, make sure you keep hold of this to reuse for that next special occasion. This way the materials go on to be useful rather than being binned after one use and it will make your gift look really pretty. If you wrap the gift with ribbon rather than sellotape your recipient can choose to reuse it or they can recycle it.
Newspaper
If you are still a newspaper reader or you know someone who is you could save them up to reuse as interesting gift wrapping paper. You could jazz it up with string, ribbon, flowers, bells or dried fruit.
Old Maps
If you have some old maps, maybe an old AA book, you could repurpose this instead of disposing them into the bin. This would be perfect for those who love to travel, who are off on their travels or for a leaving/relocating gift.
Cardboard Boxes
Do you do a lot of online ordering? What to do with all of those brown cardboard boxes? Reuse them for gift wrapping! Simply add a personal touch just like I mentioned above with the brown paper and you will have a very pretty eco-friendly gift wrapping option.
Cotton Tote Bags
A cotton tote bag is not only zero waste and pretty but it is also very useful. It can go on to be reused for many years to come making it a gift and gift wrapping in one!
Drawstring Bags
A fabric drawstring bag makes a cute and pretty way to wrap in a more eco-friendly. If you are crafty you could have a go at making your own otherwise you can most certainly find a great range online like these on Etsy.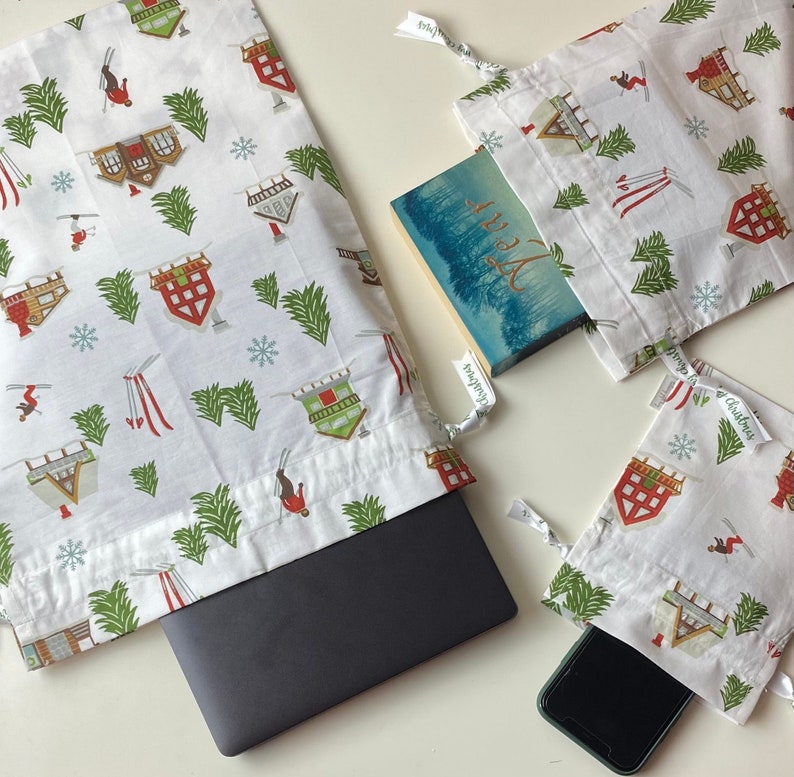 Paper Bags
Paper bags are a popular yet simple and effective choice for wrapping gifts. Just remember to leave the gift tag blank for the next person to reuse it!
Furoshiki: The Art of Japanese Fabric Wrapping
Furoshiki is simply a square piece of cloth or fabric which has been used for generations in Japan for gift wrapping, or transporting items. The word itself refers both to the craft and to the cloth and is a beautiful and elegant way of wrapping your gifts. Your cloth can be a scarf, a piece of material you have left over from a project, perhaps an old duvet cover cut up or an old item of clothing? The choice is completely up to you. To make this even more eco-friendly you could check charity shops for things that would be suitable or repurpose something you already own.
Here's a really quick demo on YouTube from Marie Kondo.
Toilet Roll Paper
Hands up who buys recycled toilet roll that comes wrapped in a funky paper packaging!! Yep, I am sure a lot of you do but how many of you save it for other uses? It is ideal for arts and crafts but also for wrapping up gifts. The bright colours make for an interesting and unique wrapping paper design (if you use the one with the swear word, maybe remember to cut that off first!) and it can of course be recycled.
Kids Artwork
If you have a nice ummmm collection of artwork that has come home from nursery or school, how about putting it to a little bit of good use before it heads to the recycling? Or your recipient may like it so much they'll want to keep it (great idea for Grandparents!) Just make sure that they haven't used glitter, plastic bits or glue as this will mean it can't be recycled.
Accessories to Consider
String
Eco-friendly tape
Ribbons
Cardboard tags
Dried flowers
Dried fruit
Holly
Lavender
Hessian
Hemp
Salt dough ornmaments
Stamps
Brooches
Bells
Pine cones
Fir tree sprig
Oragami decorations (flowers, stars)
Cinnamon sticks
As you can see, eco-friendly gift wrapping doesn't mean dull, boring or non-imaginative, in actual fact, I think it is quite the opposite. It is unique, it gives a really special personal touch and looks so beautiful compared to the ordinary paper we've been so used to. I really hope some of these ideas have inspired you to try out some more eco-friendly options for your next celebration.
Pin for later:
If you enjoyed this post you can follow more of our life, opinions and antics over on Facebook, Twitter, YouTube and Instagram. Plus feel free to come and join in with my parenting group 'From One Parent to Another' on Facebook.
If you'd like to contact me you can either leave me a comment or drop me a line via my contact me page.
For other topics similar to this one check out these suggestions below…