Review | Beat That! The Bonkers Battle of Wacky Challenges
*Gifted Product
One of the great things about being a blogger is having the opportunity to discover brand new products, games, toys whilst also getting the chance to meet the people behind the scenes. So, when I attended a blogging conference the other weekend, I was very excited to see what had recently come to market and there was one stall that really stood out to me (mostly because they were incredibly fun, enthusiastic and had bloggers joining in from the off!) Zak and Kate are a young, married couple who came up with their very first game, Gutterhead, in 2017 which completely flew off the shelves. Since then they have put all of their bubbling enthusiasm into their business, Gutter Games, and into creating more games with their latest being 'Beat That!' – which was actually dreamed up on their honeymoon. It has only just come out this September and is the game which they were showcasing to us at Blogon and the one they kindly asked me to review for them.
About Beat That!
Beat That! is a jam-packed game full of 160 bonkers challenges aimed at families and friends aged 11 and up. It is the perfect game for parties, Christmas, nights in and for having fun with the kids (as we found out!) Based on games such as beer pong and cup flip, this game has a challenge for everybody and will honestly have you all in hysterics.
Note: It is aimed at 11+ due to the coordination and dexterity involved in the challenges but this doesn't mean to say that you have to stick to this and not play with younger children. You can adapt it, make up your own rules or select challenges that your children will be able to do or give a good go at (as we did).
The Rules
Beat That! consists of 10 rounds of challenges. Start by dealing 10 betting tokens to each player- 5 blue, 3 orange and 2 yellow. The tokens have different point values and are used to bet on your own ability to do the task. Next, pick up a challenge card and read it aloud and place your bet using your tokens. Once bets are placed, go around the circle attempting the challenge. Players who succeed bank their points. The player with the most points at the end of 10 rounds is the champion!
Inside the Box
Inside the box you get:
Which gives you a pretty good idea of what you're letting yourself in for!!
Playing Beat That!
Ok, so I am sure you are already thinking to yourselves that our children are under 11. Yes, we do but because Jake is so into games, is very competitive and is also pretty skilful (and flukey!) at things for his age (5), we thought we would attempt this with him… and William was very happy to fetch balls, throw counters at us and climb on the table – parenting is fun, isn't it?!
So, we started with good intentions, set it all up, read the rules, and tried to reign Jake in…
We knew it wouldn't last but honestly, that didn't matter because just sitting down at the table and having fun like this as a family was more important than sticking to rules.
Jake went first and he picked a challenge where you had to bounce a ball over three cups and get it to land in the fourth.
He tried so hard, bless him. Just look at that face of concentration! Not as easy as he first thought though…
By the way, those cups are extremely robust, William had already bashed on one our kitchen floor earlier on in the week and it wasn't even marked! I could see that the items had been carefully thought about when chosen.
I had a go at building a tower with the cups… Oh, but using my elbows not my hands!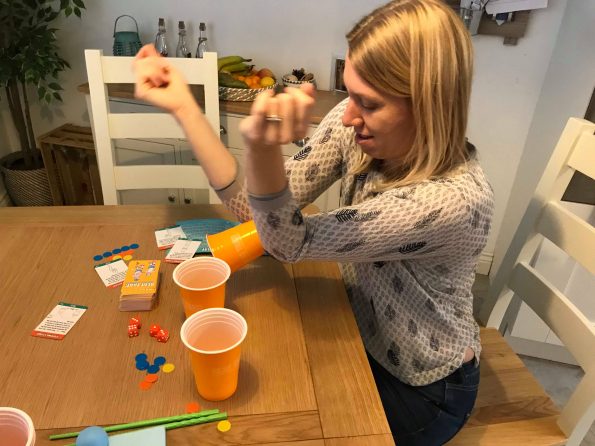 I came to the conclusion that this was either impossible or my elbows were too small??
Luckily, I didn't suck at all the challenges and quickly redeemed myself by bouncing two balls, from one hand into 2 separate cups!
Jake's face!!
As the game progressed the rules kinda began to slide out of the picture but we were having too much fun anyway.
Now, Rob is the gamer in our house. His family love a good game after Christmas dinner and they all get pretty competitive so I knew when it came to his turn that he would get excited and be over-enthusiastic!
Bouncing a ball on chopsticks isn't the easiest of tasks…
Another challenge he picked was to flip a cup up onto another
Now that was a tricky one. They range so much though so you are bound to find something you can master and even if you don't, you'll have a great laugh trying to. I cannot imagine adding alcohol into the mix!! That would be for interesting viewing I'm sure.
Overall Thoughts
We all loved this game and it was hard to bring it to an end because the challenges become so addictive. The fact that we didn't do the points system didn't matter, the fact that we all decided to take a turn or help one another didn't matter because at the end of the day we had a blast doing this and it got us all away from the telly, it got us all talking and laughing all afternoon and it kept the kids entertained (yep, even William who decided that it was fun to put the tokens into cups, take them out and do it all over again). I cannot wait to crack this open with the family at Christmas because I just know it will be far more fun than the usual Scrabble and will get everybody involved. I can't recommend this enough. Such a simple concept, cleverly put together.
If you'd like to purchase the Beat That! Game you can do so over on Amazon for £24.99.
*We were gifted this game in exchange for this review. As always all opinions remain honest and my own. For further information please refer to my disclosure page.
Pin for later:
If you enjoyed this post you can follow more of our life, opinions and antics over on Facebook, Twitter, YouTube and Instagram. Plus feel free to come and join in with my parenting group 'From One Parent to Another' on Facebook.
If you'd like to contact me you can either leave me a comment or drop me a line via my contact me page.
For other topics similar to this one check out these suggestions below…