Attending The Grand Opening Of Mighty Claws Adventure Golf
*Gifted Tickets
We were recently invited to attend a VIP grand opening of the new Mighty Claws Adventure Golf in Hedge End, Southampton which we jumped at the chance of going to as we knew Jake would have a blast playing crazy golf for the first time.
Located at Hedge End Golf Centre, Mighty Claws Adventure golf is the latest to be built with the other two sites at Bournemouth and Colchester. The theme of the Adventure Golf is all based on fun dinosaur books written by author Nat Luurtsema who also attended the grand opening.
Arriving
On arrival, we were greeted by the PR's who had helped to organise the day and each child was given a copy of the book to keep which was such a lovely touch. There were large signs with the characters on them, balloons and a ribbon waiting to be cut at the entrance of the golf course.
We went inside the main building for complimentary snacks and drinks whilst we waited for the event to start.
The day kicked off with the book reading by Nat of The Mighty Claws Follow A Monster.
This room is decorated to match the theme of the adventure golf and includes gorgeous wall murals, a reading area with beanbags, a height chart and a chart to show the size of the dinosaurs.
Once we had found out all about the characters and story it was time to go outside for the grand opening. The owner said a few words and 2 little special guests were invited to cut the ribbon. Then it was time to have fun!
Jake was an eager beaver and couldn't wait to get started!
As it was his first go he didn't really get how golf worked… a hockey game came to mind!
All around the adventure golf are selfie spots where players are encouraged to take a selfie and upload with the #mightyadventures or #dinoselfie on social media. Look out for these yellow signs. Obviously, I couldn't resist!
Moving on through the course and you come to the real showstopper– the T-Rex. He grabbed our attention as soon as we arrived and you can see why…
Those claws coming out of the ground are apart of the second hole and this is also a selfie spot because you get the T-Rex's face in the shot.
As the game moved on, Jake started to kinda get the idea of how golf worked…
Thoughts So Far
The adventure golf course itself is fantastic. It is brightly coloured, it has so many interesting areas to look at, plenty of fun dino characters and each hole has something different to offer. I'd say the only thing we noticed it was missing was a marker to tell you where to place your ball to start from. It seemed a bit strange not to have one and it meant that each player would start wherever they felt like. Perhaps it was something they had missed on purpose as it is just meant to be a bit of fun or maybe it's something they didn't get around to adding just yet?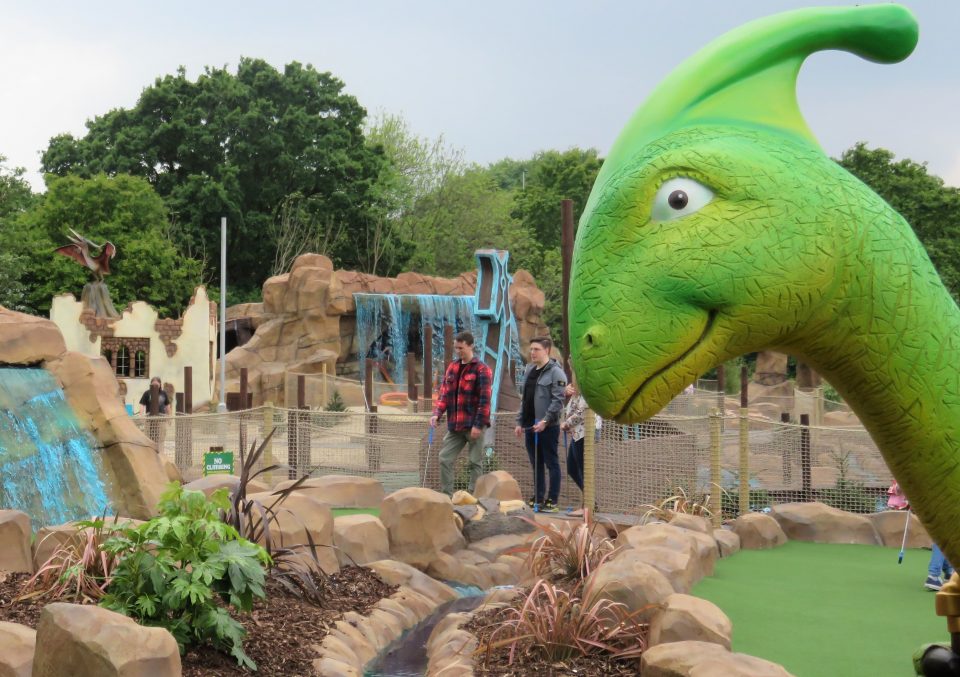 The fun characters from the book can be found all around the golf course. This is Prince and below is Bea.
Inside the cave, you can just make out in the photo above (up ahead) is another hole and the waterfall runs over the top. This is inside:
And this was the wow factor waiting for us outside.
The course has 18 holes which are all really good fun but at 5 years old things did start to get a little silly!
These Raptors were a big talking point with their water squirting mouths.
Nearing the end!
We did it!
Overall Thoughts
We had such a blast at the Mighty Claws Adventure Golf and would highly recommend a visit. However, having said that it isn't a cheap activity to do. I had a check once we were home and an adult ticket is £9.50, a child is classed from 0-12 years and costs £7 which means if you have a teenager they will be priced as an adult. When I compared this to our local adventure golf course it does come in much more expensive (they charge £7 an adult, £2.50 for a child 3-6 years and £4.20 for a child 6-19 years). Mighty Claws may be a place you choose to go to for a special day out rather than a regular family activity.
The premises do have a cafe where you can buy lunch, snacks, hot and cold drinks and cakes. There are also toilets located inside the building and as I mentioned above, the reading area. There is plenty of parking and we found it to be well signposted too.
We love finding new things to get up to and it was lovely to be able to spend time with Jake just us three. Because of the age gap between him and William, it can be tough to entertain them both in an equal way so we really enjoyed treating him for a few hours. Oh, and he was begging to do it all again as soon as we finished! Luckily the final hole takes the balls back!
If you want to find out more about any of the Mighty Claws Adventure Golf Courses you can check out their website here.
*We were given free entry to the golf course for the VIP grand opening event. I wasn't obliged to write about our day but I chose to share this with my readers. All opinions are honest and my own.
Pin for later:
If you enjoyed this post you can follow more of our life, opinions and antics over on Facebook, Twitter, YouTube and Instagram. Plus feel free to come and join in with my parenting group 'From One Parent to Another' on Facebook.
If you'd like to contact me you can either leave me a comment or drop me a line via my contact me page.
For other topics similar to this one check out these suggestions below…