How To Create a Contemporary Bedroom with a Limited Budget
*Collaborative Post
You don't need to spend bucket loads of money to create a beautiful contemporary bedroom. If contemporary is your style, there are several things you can do to complete the look without putting yourself out of pocket. Contemporary interior design focuses on colours and shapes, with clean lines and textures creating a subtle, sophisticated vibe. This article will explore how to create a contemporary bedroom with a limited budget so that you have more money for essential things.
Get a divan bed
Contemporary bedrooms are all about clean lines and uncluttered style, and nothing is better than a divan bed for creating the look. Divan beds have no posts or protruding materials – they are seamless with a fabric base and built-in drawers that give you somewhere to put your bed linen and bits and bats. Check out our divan range and sort by Price (Lowest) for bargains.
Pictured: Giltedge Divan Bed, Available from Bedstar £239
Switch out your bed linen
The most straightforward trick in the book to create a more contemporary bedroom is to ditch the patterned bed linen and go for something beautifully textured and plain. A simple pattern is fine, but the simpler, the better. Textured bed linen, such as linen with a dobby pattern, is a great choice to create depth. The best part is, bed linen can be incredibly affordable – as little as £20 for a polycotton set that includes a duvet cover and two pillowcases.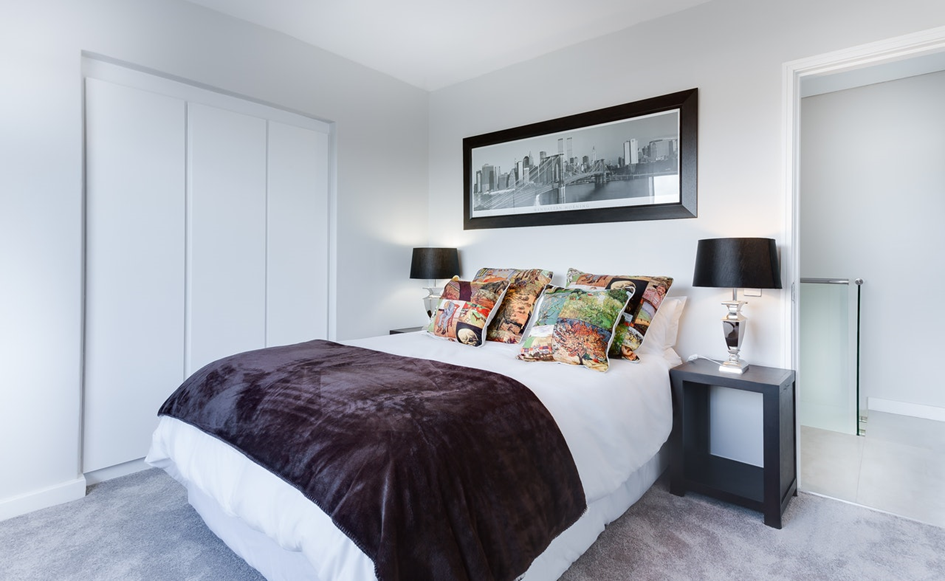 Pictured: A throw blanket at the foot of your bed is enough to make your bedroom a little bit richer looking. Also, scatter cushions to add colour.
Let's talk pillows
Whether you need regular pillows, cushions, or a V-shape or U-shape pillow, you can often pay £100 or £30 for basically the same product. The biggest bargains are found in sales. You can get 20% off pillows and cushions at places like Dunelm Mill when a deal is on. Alternatively, if you like getting crafty you could have a go at making your own covers for old pillows either by upcycling old bed linen, clothing or throws or by checking out what fabrics the local haberdashery has.
Freshen up with paint
Contemporary colours include greys, greens, and blues in pastel shades and neutral tones, giving spaces a relaxed and soft feel. The great thing about paint is a little goes a long way, and you don't need to spend £50 to £60 on a pot of premium paint to get a beautiful colour – you can get a colour match service at a paint merchant's for half the price, take a photo in!
Update your curtains on the cheap
Curtains are one of the highest mark-up products upholsterers sell. You feel like you're getting value because you're paying for a substantial amount of fabric, but the reality is the material costs very little to buy wholesale.
So, the cheaper the curtains, the better, providing the materials look and feel nice. Our recommendation? Check out The Range, one of the UK's leading home and leisure stores, which has a surprisingly good collection of curtains online.
Pictured: Floor to ceiling curtains add a luxurious feel to your bedroom.
Curtains that are plain with a light texture are perfect for contemporary bedrooms.
Charity shops = bargains
Charity shops aren't just great for passing on your old clothes – they are the best place to get pre-loved décor, furnishings, and bedroom furniture.
Look for charity shops local to you and visit them. Most villages, towns, and cities will have a British Heart Foundation, Oxfam, Save the Children, or Red Cross shop. Secondhand shopping really is a great way of saving you money and keeping items in circulation.
Set the contemporary theme with artwork
You can pick up cheap artwork from places like IKEA, TK Maxx, and The Range, but our favourite place for affordable artwork is Dunelm Mill. You can also pick up beautiful original work on Etsy from new and upcoming artists.
Pictured: Bed with white bedding and layered with a contemporary layered look, hanging artwork above the bed creates a focal point for the bedroom.
Contemporary art is commonly associated with geometric patterns and abstract art but go for anything that makes you feel at home. With paintings, the frame is also crucial for style. Contemporary frames are silver, white, or grey. Choose a frame that contrasts with your bedroom paint.
*This is a collaborative post. For further information please refer to my disclosure page.
If you enjoyed this post you can follow more of our life, opinions and antics over on Facebook, Twitter, YouTube and Instagram. Plus feel free to come and join in with my parenting group 'From One Parent to Another' on Facebook.
If you'd like to contact me you can either leave me a comment or drop me a line via my contact me page.
For other topics similar to this one check out these suggestions below…