How To Update Your Bathroom on a Budget
Whenever we think of home makeovers, most of us probably always immediately think about it being costly, right? Overhauling a room, ripping everything out, starting again… But you really don't need to change everything to have a big impact and to get a brand new look. Doing up our own home on a budget has been a fun project as we have worked out what can stay and what can go, what can be upcycled, what can be reused or repurposed elsewhere and how we can achieve the aesthetic we want without breaking the bank. I have previously talked about how we updated our kitchen on a budget so now I am going to turn to how to update your bathroom on a budget.
Paint
When we moved into our home every single room was painted magnolia. Now, as lovely as a neutral palette is, you don't want it everywhere and even though it may look crisp and clean I often feel it makes a room lack a bit of personality. In order to gain that, I decided to go big and bold with my colour choice in our bathroom. It may seem a little overpowering to some people, but each time I now enter my bathroom I am hit by this vibrant peacock green and I just love it. It can be a risk going for a darker shade as it can sometimes make a room feel smaller or a little dingy but if you pick well the room should be able to pull it off.
Tiles
Boring bathroom tiles on the wall are up there with boring decor for me. They just don't do anything for the room and this shouldn't be the case as tiles can be so much fun! There are so many different styles, designs, shapes and patterns available in them now and finding the right tile will make your bathroom pop. On top of choosing tiles for the bathroom you could also think about adding a little more interest with a row or two of mosaics as we have done here:
They really help to break up the wall and work with the tiles to add a little more interest that draws your eye. We only replaced the tiles on the walls as the flooring is white and in perfect condition which saved us more money too, however, if you wanted that wetroom look you could achieve this by opting for the same tiles on the floor as the walls which can also give the illusion of the room being much bigger than it actually is. A very simple way of altering a room without needing to extend it.
Mirror
All bathrooms need a mirror but ours came with a bog-standard square one that looked as though it was unfinished. The great thing about mirrors is that you can easily pick them out secondhand, you may be given a hand me down, you could try sourcing one from a house clearance or shop the sales. It doesn't have to be a big expense, it is just about finding the mirror that fits the style you are going for.
Bath Panel
When the idea of doing up a bathroom comes up, you may be thinking that you will need to rip out the bath, toilet, sink and so on but honestly, if these are in good working order I would just leave them be. A very simple way of updating a bath is to just replace the bath panel with one more suited to your taste.
Shower Screen
The shower curtain has kinda had its day now. Not only can they look quite drab, but they are also breeding grounds for mould, mildew and bacteria and often need washing to keep them at their best. To update your bathroom why not do away with the curtain and replace it with a shower screen? Again, this doesn't have to cost the earth, there are always sales on and eBay is a great place to find secondhand items for a little less which is where we purchased ours from. A screen will immediately make your bathroom look brighter, sleeker and more modern.
Shelving and Finishing Touches
To finish off the look, think about how you could incorporate shelves, cubby holes, pictures, ornaments, candles and so on into your bathroom. Long ago, the bathroom was always more of a clinical looking room but this room deserves a design element too and if you tie your new look together with some pretty items then go ahead and do it. When you are laying back in the bath and looking around the room you want warmth, tranquillity, things that will make you feel calm and happy and if that comes in the form of your favourite trinkets then put them exactly where you can see them. Choosing items you already own, making your own shelving, digging old photo frames out of a cupboard will all help to keep you on budget.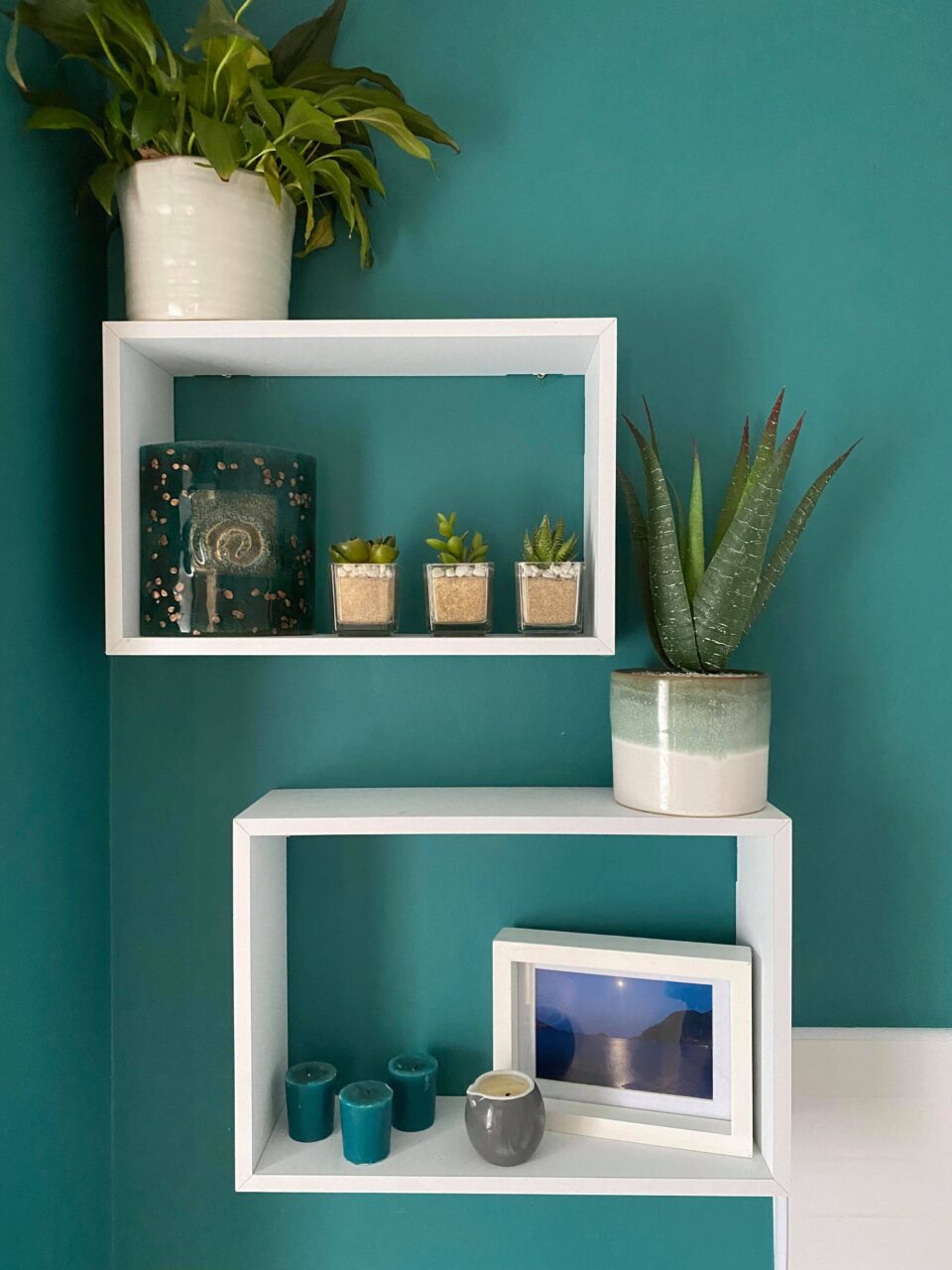 And that is all we did. No walls were knocked down, nothing was ripped out, we didn't need to replace the cupboard or radiator or floor and I got a bathroom I love without spending too much at all.
Creating a brand new bathroom certainly doesn't need to take a lot of hard work or a lot of money and if you set a budget for every room you could lovingly transform your home and still keep some of your savings for whatever else you have your sights set on.
*This is a collaborative post. For further information please refer to my disclosure page.
Pin for later:
If you enjoyed this post you can follow more of our life, opinions and antics over on Facebook, Twitter, YouTube and Instagram. Plus feel free to come and join in with my parenting group 'From One Parent to Another' on Facebook.
If you'd like to contact me you can either leave me a comment or drop me a line via my contact me page.
For other topics similar to this one check out these suggestions below…