Making Learning Fun with Little House of Science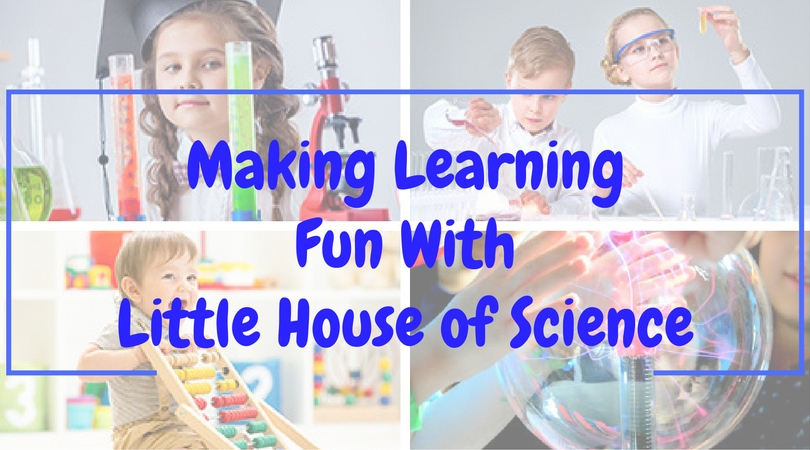 *Collaborative Post
Back in the day, when I was at school, you were there to learn and this meant the classes were usually pretty serious. I always did well in the interactive classes– Music, Science, English– but I struggled with Maths from the start. For me, it was always explained in a very complicated way. If I can relate information I am given to practical situations and it seems logical to me I can take it all in and learn and perhaps if it had all been made more fun I may have been much more engaged. It wasn't until I failed my Maths GCSE and had to re-do a year at college that I found a teacher who finally made it all 'click'. If somebody had broken this down for me from an earlier age, had been encouraging and made learning fun I may have enjoyed this subject and excelled in it in my school years instead of freezing at the site of a fraction!
Now that I am a Mother myself, I want to ensure that all topics are approachable for my son and that he never feels like he needs to panic or worry over certain subjects. I am so pleased that classes at pre-school and school have finally also realised the importance of making learning fun and that even extra-curricular workshops are now also available. I have recently come across the services of the Little House of Science and I have been finding out what it can offer children of all ages in terms of sensory, Science and Maths classes.
″Children are naturally inquisitive, which makes them ideal scientists. It's never too early to start educating our children about the STEM subjects (Science, Technology, Engineering, and Mathematics).″
Little Discovery– from 6 months
We all know the importance of sensory play from a young age. Textures, sight, sound, smell and touch all help to develop your baby's sense of the world and this class brings all of this into one place. Your baby will be encouraged to learn about their own senses through play by using music, by encouraging exploration of their surroundings, using colours and shapes and objects/materials with different textures.
This class continues until the age of 2 by which point the class moves its focus onto creatures, life, plants, stars, dinosaurs and Maths.
Little Maths– 2-4 years
Jake is now 3 and we have encouraged him to learn how to count from as early as we could. With my early battle with Maths, I did not want him to follow in my footsteps and I think it is a very important area to feel comfortable in.
These classes make learning Maths fun by using techniques which involve props, music, play and rhythm to make it relatable as well as enjoyable. Little House of Science understands that Maths classes for kids will allow them to take beneficial skills with them to pre-school and school and will their build confidence with recognising patterns and numbers.
″Toddlers (and babies) already recognise patterns, learn sequencing, object permanence, sorting, compare and classify objects during activities, playing or their daily routine.″
Little Science– 3-8 years
This class is designed for children to attend weekly to learn about life, Earth, physical topics and engineering. The classes cover so many interesting areas that I kinda wish they offered these to adults! To be able to bring together lessons about space, our bodies, movement, gravity and even famous scientists all whilst making it interactive, they definitely make learning much more fun than I ever had during my childhood.
Age groups are allocated to the children and each group will have a different age-appropriate focus for that session. The younger groups will use drawings, the middle group will be focused more around vocabulary and hands-on experiments and the older group will be taught to look into theories and testing those with more complex experiments.
Big Science Academy– 8-11 years
This class is the next step up from Little Science and expands on the children's knowledge that little bit further. The topics are taught by qualified science teachers and they will take what has already been learnt at school and any prior Little House of Science workshops to then delve deeper into these areas. This will include a larger number of hands-on experiments, take-home projects to be further worked on, interactive discussions and class notes for parents to refer to.
″Children are curious by nature, which creates the perfect platform for them to learn what science offers the world. Every child is a budding scientist, but needs the right direction to grow into one.″
If you are a pre-school or school you can also bring these workshops onto your own premises. Little House of Science wants to work alongside the curriculum in order to meet the learning needs of the children and to continue to spread their message that learning can be fun. All classes are planned and risk-assessed.
If you are a parent why not book a workshop for an exciting and original party? The experiments will include chemical reactions, states of matter, air vortexes, density, mini robots and more!
The workshops are currently only available in certain locations but due to the popularity, they are beginning to branch out across the UK. Check their website for details of what is on in your area and for their timetables.
I think it is so exciting that these classes and workshops are now on offer and I hope that there will be fewer children being afraid of Maths and Science and more children excelling in these fields.
*This is a sponsored post. For more information please refer to my disclosure page.
Pin for later:
If you enjoyed this post you can follow more of our life, opinions and antics over on Facebook, Twitter, YouTube and Instagram. Plus feel free to come and join in with my parenting group 'From One Parent to Another' on Facebook.
If you'd like to contact me you can either leave me a comment or drop me a line via my contact me page.
For other topics similar to this one check out these suggestions below…