Review | Nurture Collective's Box of Love
*Gifted Products
Nurture Collective is a gorgeous ethical online store run by a like-minded eco-conscious Mum, Miriam. Having previously worked in busy London, she went from being a high flying executive to Mum and suddenly found that her perspective on life and our planet had shifted.
"I suddenly felt complete, and yet along came with it a deep and burning desire to love to protect and nurture this incredible creation! It all started with Yasmin's baby products, wanting them to be chemical-free and then it quickly progressed to her baby clothing and I felt that my eyes had been opened to a realisation of all the processes our products and clothing goes through even before it ends up in our hands."
Nurture Collective Website
Everything this shop stands for is important to me; natural, sustainable, ethical, recyclable, handmade, UK made… the list goes on, which is why I knew that working with them was the perfect fit for us both! And with Mother's Day just around the corner what better time to review their gorgeous Box of Love.
The Box of Love
The box of love is a little box of pure luxury and makes a wonderful gift for any busy Mum. Packaged in a cardboard box with recyclable stuffing this box includes eco-friendly treats that will pamper your entire body. The products included are: soap bar, shampoo bar, conditioner bar, a bamboo toothbrush, Himalayan salt deodorant, a heart-shaped bath bomb and an exfoliating soap bag and it retails at £35.
Soap Bar
The soap bar comes in a variety of scents which you can choose as part of the package online. I received the Lime and Green Tea soap and my goodness it is just lush! As soon as I caught a whiff of the scent I just wanted to eat it! Not only did it smell good it works beautifully by gliding easily over your skin, foaming well and leaving your skin silky smooth. I would most definitely purchase this soap again.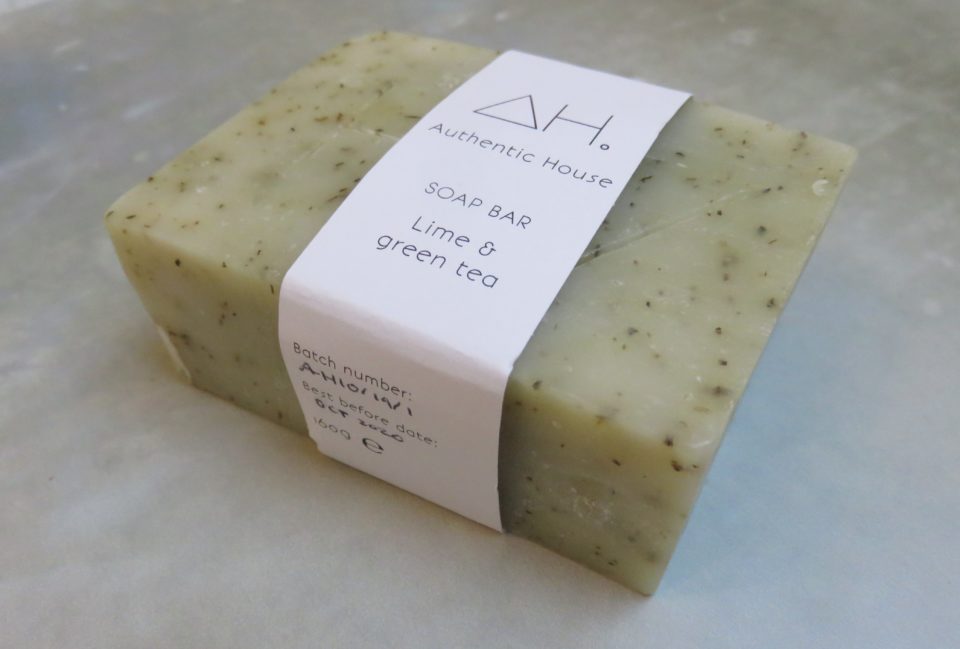 Shampoo Bar
I have been trying and experimenting with shampoo bars over the last year or more now and I can tell you that it is one area of being more eco-friendly that I have struggled with. I have very fine hair that is prone to grease on the top and dry ends. I also have it highlighted which I have found can be dulled down by some bars. The usual issues I have found are knots, dull hair, greasy hair and soap build-up. I did find a good match from a store and have been using that for quite a while now but I am still on the lookout for one that could do better. I was sent the citrus and ylang ylang vegan shampoo bar by Nurture Collective. All of the bars are clay and jojoba oil-based but Nurture Collective offer them in 3 scents which add to the overall results. I was really hopeful for this shampoo bar as it just smelt so rich and lovely. It went on easily and felt like it had cleaned and washed well but unfortunately it was just too rich for my fine hair and it ended up looking greasy. I was so disappointed because I wanted it to work but I really do think it is just my hair that doesn't want to play ball. I think these ingredients would be perfect for thicker, drier hair and would help to smooth, detangle and moisturise. If I were to try this shampoo again I think I would give the mint tea scent a try as I would imagine this would be fresher and lighter.
Conditioner Bar
Again, this conditioner bar felt amazing going on and really smoothed my hair but it just wasn't compatible with my fine hair. It contains cocoa butter which I think is just too rich for my greasy prone hair. This would be ideal for anybody with dry hair.
Bamboo Toothbrush
I love a good bamboo toothbrush and this one has to be the best I have tried due to the sturdy handle. I haven't seen a bamboo toothbrush with such thick bamboo on it and it meant it was far nicer to use than other flimsy ones I have used in the past. This is such a simple swap and I would encourage anybody to give one a whirl. This brush also comes with the lovely touch of having a chosen message inscribed on the handle. You can choose from Trust, Breathe, Dream, Grow, Believe or Pause.
Himalayan Salt Deodorant
I had heard amazing things about Himalayan Salt so I was really excited to give it a try. Known for its natural healing and muscle-relaxing properties as well as being good for preventing low blood pressure when added to food, not to mention being great for your home environment in the form of salt lamps, but did you know that it can also be used as a natural deodorant? All you need to do is wet the salt bar and run it across the skin of your underarms. The minerals are absorbed by the skin to provide protection against the odours produced when sweating. I found the bar to be easy to use and really didn't notice any smell coming from my underarms during my busy days as a Mum. There was no irritation or stickiness, in actual fact, it didn't feel as though I had anything on my skin at all. I'm really pleased with this as a deodorant and am so glad that I can now move away from my heavily perfume and chemical-based one. You can also warm the bar up and use it as a massage tool too!
Heart-Shaped Bath Bomb
This luxurious bath bomb not only looks amazing, it smells fantastic and works brilliantly. I think this was my favourite treat inside the box of love. I mean it gave me the perfect excuse to sneak off for a bath for one thing and it allowed me to take the time to relax and pamper myself for a little while. With heart petals that end up floating around the bath and gorgeous aromas of lavender and chamomile being released, it is just a wonderful way to relax and forget about being Mum for a short time.
Exfoliating Soap Bag
I love this product especially since I no longer want to buy any products with added chemicals or scrubs due to their impact on the oceans. Soap is great but there are times when you want to give your skin that extra buff to really clean the dead skin cells away. With this it is achievable. Just pop your soap bar inside the woven bag and the material acts as a scrub whilst the soap cleanses.
This box was a joy to receive and try and I would most definitely love to be given it as a gift again in the future. It is special in the fact that you can carefully choose each scent for each item and the inscription on the toothbrush but also because it tells a Mum to just take some time for herself which is really important.
Nurture Collective are clearly very passionate about what they do and about our environment. Not only do they stock skincare products like these but they also sell sustainable toys, baby essentials, a wide variety of clothing, accessories, swimwear and even have wonderful items from Little Drop in The Ocean who we are already big fans of. So why not check out their website and see if you can make some more eco-friendly swaps in your life?!
*I was sent the box of love in exchange for an honest review. As always, all opinions are my own. For further information please refer to my disclosure page.
Pin for later:
If you enjoyed this post you can follow more of our life, opinions and antics over on Facebook, Twitter, YouTube and Instagram. Plus feel free to come and join in with my parenting group 'From One Parent to Another' on Facebook.
If you'd like to contact me you can either leave me a comment or drop me a line via my contact me page.
For other topics similar to this one check out these suggestions below…