Begin Your Eco Journey With an Eco-Friendly Starter Box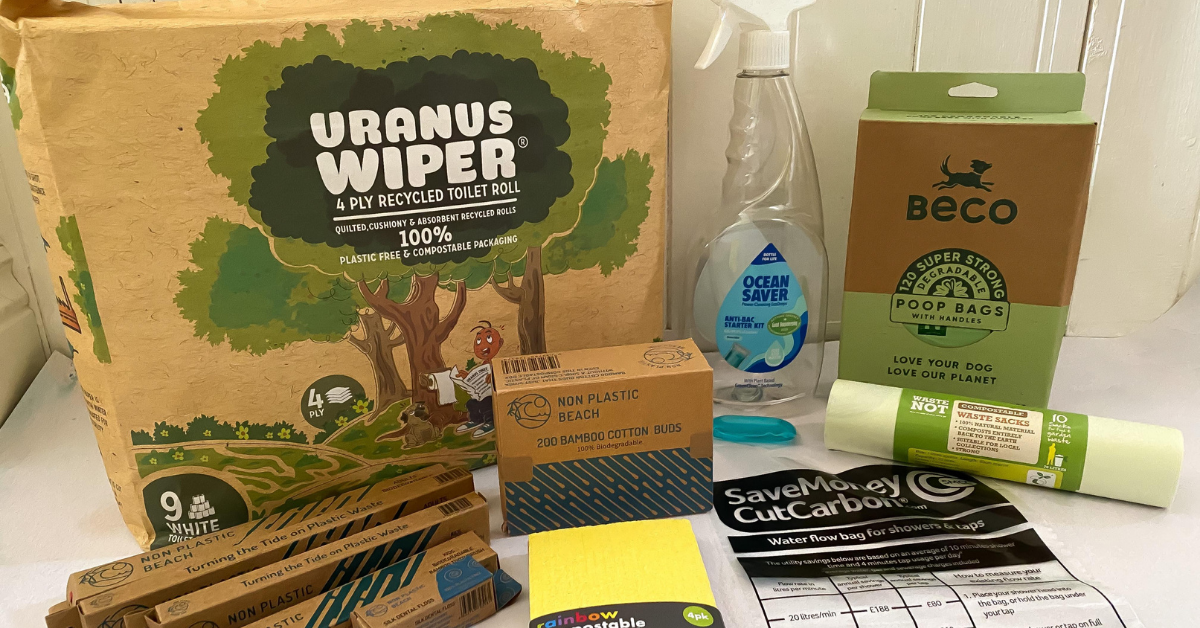 *Ad
When you first start to look into making your lifestyle a little more eco-friendly it can be quite natural to feel overwhelmed by the products, suggestions, tips, ideas and so on. One thing I am often asked is where to start and my simple answer is to always start small. Choosing really easy products, swaps you think you will love and greener alternatives that will stick is the most sustainable way of becoming sustainable. Once these swaps become your new norm and you can find your routine with them, move onto the next area you think you could change and soon, you will be making small sustainable steps each and every day.
One really convenient way of trying out new eco products is by choosing an eco-friendly starter box from SaveMoneyCutCarbon. They have a great range on their website including a family starter box, eco-essentials plus pet box, washing and more box, just us 2 starter box, the ultimate family starter box and more, plus the one I chose which is the eco family with pets box.
Planet Points
When you shop with SaveMoneyCutCarbon you don't just help to save the environment, you also save money. With every purchase you make you will collect Planet Points which will be applied to your account and can be used as payment for future purchases. SaveMoneyCutCarbon now provides every non-home club member 1 point for every £1 they spend, and Home Club members 2 points for every £1 they spend.
More on Planet Points:
– Planet Points can be used on everything across the website
– You can part pay with Planet Points or full pay
– They can't be used for postage but they do offer free delivery on orders over £40
– You can save your Planet Points and spend them when you are ready
I used my saved Planet Points to order the eco-friendly starter box and it couldn't have been easier to do. As a club member, I also receive a great discount on products meaning I saved even more money too! At the checkout, you simply choose to pay using your saved Planet Points and your account updates the basket and points. You're rewarded for being more eco and for being a loyal customer, win-win.
The Eco-Family With Pet Starter Box
The reason I love these eco-friendly starter boxes is because they are full of the essentials and give some fantastic options for those who are just delving into their eco journey. In this box you get:
100% recycled Toilet Paper (9 Rolls)
Uranus Wiper's toilet paper is:
100% recycled, quilted with 4-ply sheets – the same quality as your leading supermarket brand
Vegan friendly and cruelty free
Hypoallergenic and septic safe
Chlorine, bleach, and dye free – unlike leading supermarket brands!
BPA free
Better yet, by using Uranus Wiper toilet roll you can reduce your carbon footprint compared to bamboo toilet roll alternatives because it is UK made.
All their packaging is compostable, recyclable, biodegradable, marine-life friendly and zero waste.
Compostable Waste Sacks
Made from natural vegetable starch, these compostable waste sacks are perfect for your kitchen bin, as they're strong but can be completely composted. Ideal for local collections and also home composting – check with your local authority to see which kerbside collections they take. These bags are not only strong but really soft to the touch and do not have that overpowering plastic smell you get with black bin liners. I have found these to be a really easy yet effective swap.
Degradable Poop Bags
The Beco Pets Degradable Poop Bags are a great choice for anybody who is looking for a strong and durable poop bag that's kinder to the planet than leading plastic options.
Whilst these bags are made with plastic, they're mixed with an agent that completely breaks them down in 2 – 5 years – leaving no micro-plastics behind. On top of that, the agent also contains zero chemicals. We started using these a couple of months ago and we won't be going back to our old version. You can read more on eco-friendly pet products here.
Biodegradable Bamboo Toothbrushes Family Pack
Bamboo toothbrushes are a fab alternative to a plastic one and a very simple swap for anybody just starting out on their eco-journey. This British-designed toothbrush is made from biodegradable bamboo, with a coloured base and has medium bristles for effective brushing. It is designed to reduce your plastic use by 95%+.
The bamboo handle can be placed in your compost bin and the matching colour BPA-free nylon bristles can be extracted for recycling at your local centres – check their guidelines.
Biodegradable Silk Dental Floss
This fully biodegradable dental floss is made from silk and naturally breaks down so it is fully compostable. I've been using this one for a couple of months now and it works just as well as its plastic cousin but is far more eco-friendly. On top of being a zero-waste product, it also comes in a cute reusable glass bottle with a metal lid which doubles up as the floss cutter. You can even purchase refill packs. Your dental care doesn't need to suffer just because you want to ditch that plastic. Check out more sustainable bathroom ideas here.
Compostable Cotton Buds
This eco-friendly starter box comes with a pack of 200 cotton buds that are made with a compostable bamboo stick, free from any coatings which makes it a perfect sustainable swap for the traditional plastic cotton bud that we know can be extremely damaging to the environment and oceans.
OceanSaver Anti-Bac Starter Kit
If you like a bit of eco-cleaning but don't quite have the time to make your own from scratch then OceanSaver EcoDrops™ are your next best eco option. These are pods which contain a concentrated cleaning solution and when dropped into a bottle of water they fully dissolve to give you an instant zero waste cleaner. They are plant-based, non-toxic, cruelty-free and 100% biodegradable.
I first gave this brand a go earlier in the year and even though I do enjoy making my own cleaning products, these are ideal for ease and simplicity.
Compostable Sponges
We don't have any disposable cloths in the house now, everything can be washed and reused or composted when they have seen better days and these sponges are just ideal. Made from 70% cellulose and 30% cotton, these are a completely natural alternative to the common plastic sponges the majority of households have. They are both dishwasher and washing machine safe, so can be washed at 30-60 degrees, air dried and reused.
Reusable Flow Bag
This product was brand new to me but it was really fun and interesting to try out. It is essentially just a plastic bag but by following the instructions on the side you will very quickly be able to see how much money and water you could save if you changed your tap or shower heads to eco versions.
As you can see, being more eco-friendly doesn't have to be complicated or confusing whatsoever. Just by making small steps like these, you'll be making positive changes.
If you'd like to save more money on an eco-friendly starter box or any other eco swaps that will help to reduce your carbon footprint and household waste, then why not sign up to the SaveMoneyCutCarbon Members Club where you will receive exclusive special offers, products and bundles, you can earn Planet club points, unbeatable prices, exclusive guides and so much more.
*This is a paid collaboration with SaveMoneyCutCarbon but as always all opinions remain honest and my own. For further information please refer to my disclosure page.
Pin for later:
If you enjoyed this post you can follow more of our life, opinions and antics over on Facebook, Twitter, YouTube and Instagram. Plus feel free to come and join in with my parenting group 'From One Parent to Another' on Facebook.
If you'd like to contact me you can either leave me a comment or drop me a line via my contact me page.
For other topics similar to this one check out these suggestions below…