Review | WUKA Period Swim Bikini Brief
*Gifted Product & Affiliate links
Swimming whilst on your period can be a bit of a pain. Exercise is such a great way of banishing those menstrual cramps but for some, the thought of getting into a pool during this time of the month can be daunting. You want to feel completely protected, you want to be comfortable and you want a product that will work with you not against you. In the past, tampons have been my go-to for swimming but since embarking on my eco journey, I haven't wanted to use them. Of course, I have had to at times but funnily enough, since having my children, they have also become the most alien things to my body. I have been able to feel a tampon through every movement and couldn't wait to remove it. Thankfully I then discovered the far more comfortable and eco-friendly menstrual cup but what do you do if you have a lighter period or if you want to swim towards the end of it? This is where WUKA period swim bikini brief can come into play and I have just been fortunate to review some during my recent annual holiday.
What Is Period Swimwear?
The period swimwear from WUKA comes in the form of a padded bikini brief that allows you to swim with complete protection when your period is a little lighter. Made from smooth, stretchy nylon fabric, these look and feel just like ordinary swimwear but they have a secret addition in the form of a built-in pad that can absorb up to 2 tampons worth of flow (around 10ml).
How Does It Work?
All WUKA pants have period-specific technology to ensure that you can carry on with life as normal during your time of the month. With multiple layers (you can read more on this here) which wick away the flow and absorb it, their pants range help to keep you comfortable whilst giving you ultimate protection and not having to worry about leaks; and now they have included this in with their swim briefs too. The outer fabric of the swim brief is water repellent which means that the pad does not overly absorb the pool water, leaving you confident that your period is covered.
*You can also read my review of the WUKA medium flow period pants here.
How Do You Wear Them?
You can wear the WUKA period swim brief as they are like a bikini, you can wear them underneath your normal bikini briefs or also under your swimsuit. They look just like bikini bottoms so there is no way anybody would be able to tell that they aren't and they are so thin that they do not show if you choose to wear them underneath your usual swimwear.
So, What Did I Think?…
WUKA Period Swim Bikini Brief Review: The Fit
The briefs are lovely and soft and smooth to the touch, you really wouldn't know they were for your period. The sewn-in pad is thin and very discreet and I must admit that this left me a little dubious about how well they would work. In terms of fit, if you read my previous review you will know that I got the normal period pants in a small (as per their size guide) but I found them to be a little snug so this time I asked for a medium. The fit was perfect. They still sat nice and closely to my body, they felt good, gave perfect coverage (I don't like to show off too much bum!) and I loved the feel of the silky material. The swim bikini brief is available in a navy shade and I don't own a navy or even a black bikini (which you could get away with if you like to match) and as I am not one for mismatching, so I opted to wear the period swimwear under my swimming costume. Unfortunately, they wouldn't sit under my bikini briefs due to the cut and style of them, however, that was no concern as I was also a bit bloated and preferred to have my tummy covered. I got perfect coverage from my costume and you would never have known I had another layer underneath. I felt happy to head off to the beach for a day of fun with the family.
Swim Test
Now, this was a UK holiday, we were in Cornwall and the water was absolutely freezing but I needed to do a full, thorough review for you and so I braved the waters to put the WUKA period swim bikini brief to the test.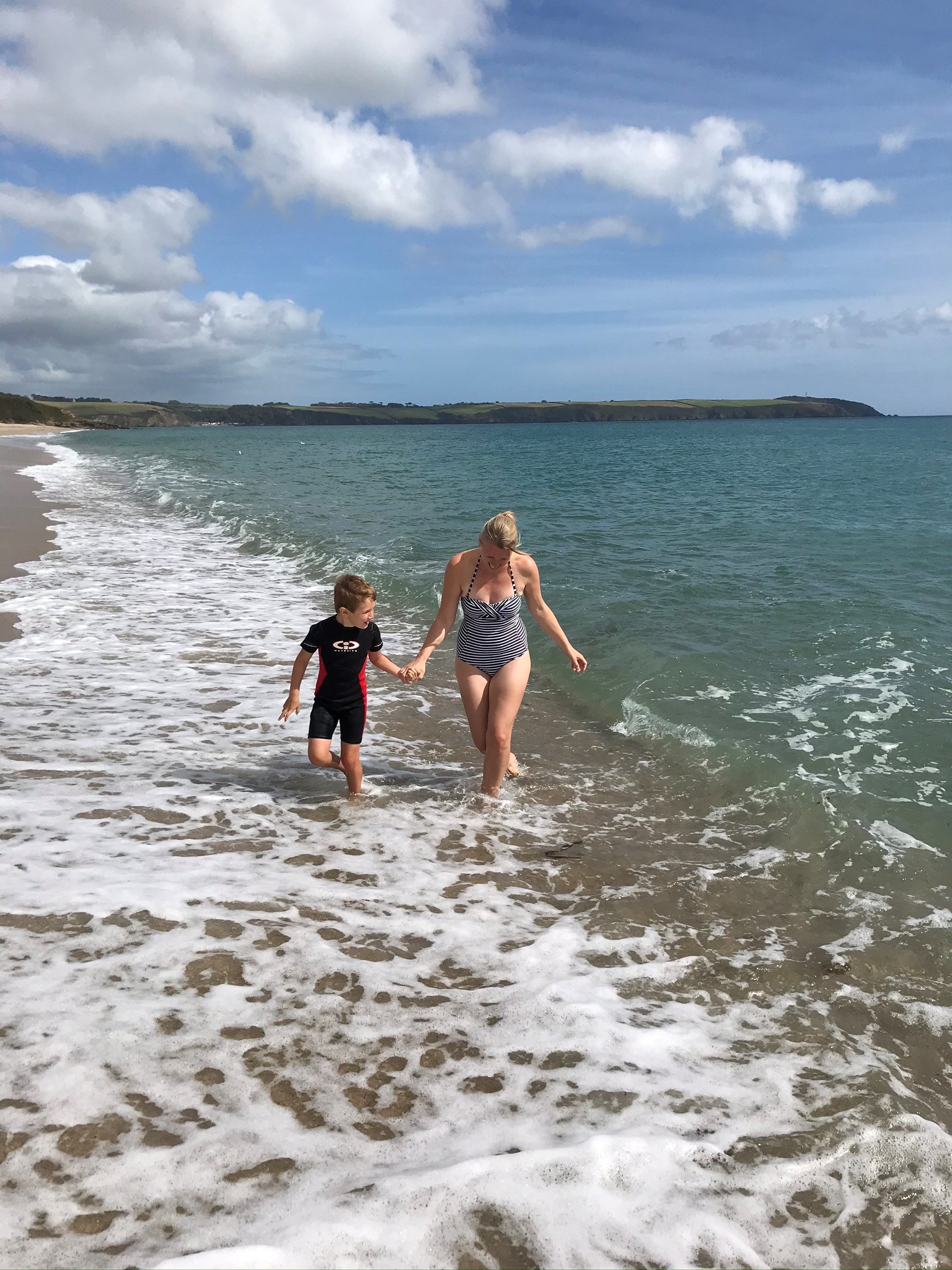 The bikini brief stayed completely in place whilst I enjoyed a swim, it didn't bunch up or feel uncomfortable and I felt supported. I then put them to the ultimate test by sitting in the waves with the boys. As you can imagine, the swim bikini brief was battered by water, the sand, my bum was moving back and forth… Oh, the fun of it all! And I can report back that they held up to the job. No slack, no movement, still no bunching up, the padding was all still in place (albeit full of sand) and I certainly didn't feel as though I was on my period.
Leakproof
After a full day at the beach, I had no leaks and no issues.
Drying Time and Care
In terms of drying out, I was on a Cornish beach on a breezy summer day so not even my swimming costume fully dried out but once we were back at the holiday home, I rinsed the bikini brief out in cold water and hung them up to dry and they were ready to use again the next day. As with all swimwear, you simply wash these by hand after use in cold water to remove the chlorine or salt and air dry.
Overall Thoughts
I thought these were a great alternative to disposable menstrual products and a very comfortable one at that. I love a good reusable period item and even more so when it means that you can continue to have fun during your time of the month especially when you have little ones who want Mum to join in! This swim bikini brief is available in sizes XS to XL and costs £21.99. To find out more about the WUKA period Swim Bikini Brief you can find them on their website here.
*I was sent the WUKA Period Swim Bikini Brief in exchange for an honest review. This post also contains affiliate links. For further information please refer to my disclosure page.
Pin for later:
If you enjoyed this post you can follow more of our life, opinions and antics over on Facebook, Twitter, YouTube and Instagram. Plus feel free to come and join in with my parenting group 'From One Parent to Another' on Facebook.
If you'd like to contact me you can either leave me a comment or drop me a line via my contact me page.
For other topics similar to this one check out these suggestions below…