Review | Colour Chameleon Game From Jumbo
*Gifted Product, Amazon affiliate links
I recently attended a blogging conference where I was fortunate enough to speak to lots of different brands and see some of their new products that are coming or have just come to market. One brand which I have previously worked with on a Toy Story Puzzle Review, Jumbo Games, was there and as I am a big fan of getting my children into playing games and away from the electronics, I am always eager to see what they have come up with. They did not disappoint! As soon as I mentioned that my blog had taken more of an eco angle, the PR was right on it and he presented me with this beautiful collection of games in cardboard boxes. I may have got a little excited at just the boxes! You see, the boxes are made from 100% recycled materials…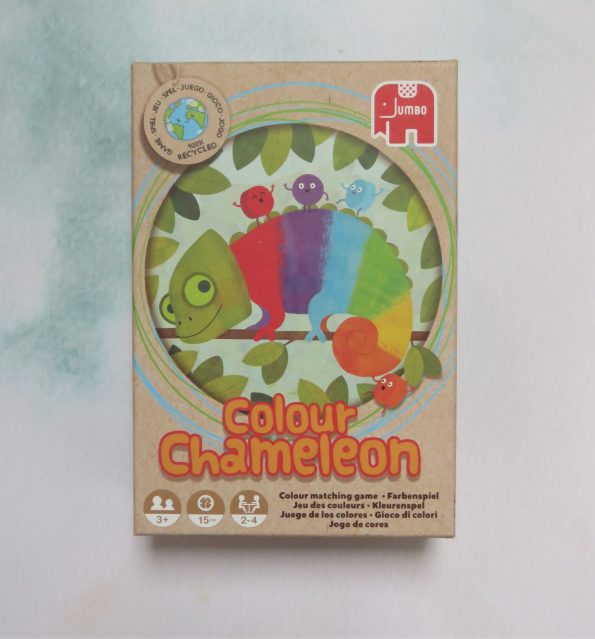 Not only that but the pieces inside are also made from cardboard and the plastic counters are made from old shampoo bottles which means everything about the games is better for our planet. That's the first thumbs up from me!
There was such a good selection of games to choose from but this little chameleon won me over immediately so I chose to review him/them for Jumbo Games.
What's Inside?
Inside the colour chameleon game box is a set of four cardboard chameleons, a large selection of coloured counters and a flat-packed dice. To begin with you need to pop the chameleons out of their outer edging and remove the coloured spots in their tail. You then need to construct the dice which is also made from card and fold it over to place inside the plastic outer cover.
What isn't inside the box are game rules and there's another eco reason why…
In case it is hard for you to read it says:
'Where are the rules of the game? The rules for our games are only available to view and download in a digital format and can be found on our website through the URL below and scanning the QR code. This enables us to save 3,000 m² of paper for all our 100% recycled games, not to mention the water and energy it would have taken to produce them on paper.'
And that's another thumbs up from me!!
The Game Rules
To be honest, it is easy to work out the name of the game but before I even looked them up I'd already come up with other ideas on how to play it because of the boys being at such different ages. Anyway, for the real way this is what they state online:
Playing
I first set this up to play with William who is not quite yet 2. The age range states 3+ but I could see that this game would be a great way to get him started on learning his colours. I obviously didn't want to complicate things for him so I simply showed him the counters and said the colours. I showed him how to place them into the holes on the chameleon and tried to encourage him to match them up. Of course, it didn't go to plan but he absolutely loved popping the counters in and taking them out which is really good fine motor skills practise and as he gets older he will begin to understand his colours too. Just rolling the dice and matching them up is a good way to encourage learning.
Jake is 5 so explaining how the colour chameleon game works and playing with him was simple… and my did he get competitive?! With each roll of that dice he got so excited when the colour he needed came up but when he rolled the same colour again he couldn't wait until it was his turn again!
And it's safe to say that a 5-year-old is also very good at this game– he beat me twice!
You May Also Like:

Review | Beat That! The Bonkers Battle of Wacky Challenges

Bringing The Disney Magic Home With shopDisney

Masha and The Bear Race To The Tree House Game Review And Giveaway!
Overall Thoughts
The colour chameleon game has been a big hit in our house this week. William has had it out every day and Jake had great fun beating me! It is definitely going to be one that will last us and also one that we will all be able to play as a family of four one day. I'm now eager to add to it and get more of the games in this collection. Anything that entertains the kids and is also kind to the environment is a winner for me.
Get yours here:
*I was gifted this product in exchange for an honest review. For further information please refer to my disclosure page.
Pin for later:
If you enjoyed this post you can follow more of our life, opinions and antics over on Facebook, Twitter, YouTube and Instagram. Plus feel free to come and join in with my parenting group 'From One Parent to Another' on Facebook.
If you'd like to contact me you can either leave me a comment or drop me a line via my contact me page.
For other topics similar to this one check out these suggestions below…