Review | Leaf and Root Luxury Eco-Friendly Cosmetics
*Gifted Products
Being more eco-friendly doesn't stop with ditching those plastic bags or using natural cleaners, for me it is a lifestyle change which means finding businesses and solutions for all areas. I want to be able to say that I am doing the absolute best that I can, I want to know that my carbon footprint is being significantly reduced and feel happy that I am keeping my waste to a minimum. And once you start looking for products you will be pleasantly surprised by how many are available to us, it's just the case of changing how we shop (not everything needs to come from the supermarket!) Toiletries, cosmetics and other self-care items all tend to come to us wrapped in plastic, contain a variety of perfumes and chemicals and are often tested on animals before coming to us. All of which we all want stopping but the only way to achieve this is by showing these companies that we no longer want products like these and the best course of action is to shop elsewhere and to shop eco. 
Tecorra
Tecorra is one company that want this change to happen and their mission is to reduce plastic, to supply vegan and cruelty-free products at affordable prices whilst at the same time, looking after the workforce who create them. They have been successfully supplying a range of sustainable products and have now stepped into the world of cosmetics to bring you a new eco-friendly label to enjoy– Leaf and Root.
"Designed with sensitive skin in mind, all our Leaf & Root luxury products are vegan, SLS free, palm oil free & of course, plastic-free. Each item is handmade to perfection in a UK workshop powered by renewable energy and are cruelty free – our products are tested on humans not animals always and forever"
Run by couple Izzy and Mike, this small business began in 2019. Both have the same passion to live more sustainably and after working in Africa (Izzy on her PhD and Mike volunteering to build an ecological database) they saw firsthand the effects climate change was having on the habitats. Back home in the UK, they knew they could still make a difference and Teccora was born shortly followed by their Leaf and Root cosmetics brand. Mike told me:
"My focus is on 2 areas – environmental responsibility (which covers a huge range of issues from transport distances through to processes, packaging and disposal) and quality (my products have to be great for the end user to provide value to people regardless of IF they care about the environment)"
So, when they asked me to review a few of their products from their new cosmetics range I just knew I had to see what they were like because if they meet my expectations, they will definitely meet others and the only way we can get this eco message out there is by always talking about amazing companies like these.
Leaf and Root Review
Peppermint and Pink Salt Bath Bomb (£6.99)
The first thing that hit me when I opened my parcel was this amazing aroma of peppermint. I could immediately tell that nothing had been scrimped on the making of this bath bomb and I couldn't wait to use it.
As soon as I dropped the bomb into the water, it began to do its job and produced far more fizz than I have ever seen from any bath bomb I have previously used. It also broke up evenly and in good time. I don't like it when a bath bomb takes ages, when it clumps together at the bottom of the bath and doesn't fully dissolve. The purpose of a bath bomb is to change the water's qualities and to provide you with a bath that will benefit your skin. If it cannot do this, it is just a waste of money.
Once fully dissolved, my bathroom smelt divine. Containing cocoa butter, peppermint, Rosemary oil, pink salt and kaolin clay, I could feel how each ingredient helped. I'm not usually one for peppermint but this was so refreshing and also calming. The pink salt helps with muscle relaxation, the rosemary aids with concentration and focus, the clay provides a rich foamy quality and the cocoa butter leaves your skin feeling super soft. I laid in the bath for so long, just enjoying the feel of the water, the rich smells and taking time to fully relax. I walked away feeling as though I had just had a spa treatment! This is one product I will definitely be purchasing in the future.
Lavender Garden Body Scrub (£4.50)
This cute little body scrub looks small and dainty but it certainly does the job with very little effort and by using very little of the product. Containing lavender oil, almond oil, coconut oil and arrowroot the ingredients work together to cleanse and scrub away the dead skin cells but then leave it super soft and smelling lush! I love the addition of real lavender buds on the top which adds to that beautiful aroma. The only thing that can be tricky is using this in the shower as it dissolves easily, so you need to turn the showerhead away and once used, make sure you store it away from water and allow it to fully dry out. It is most probably more suited to use in the bath in order to preserve it for plenty of future use.
Bergamot and Lavender Natural Deodorant (£8.50)
I haven't hidden the fact that I have struggled to find a natural deodorant and that I am always on the lookout for a product that will work for me. It took me years to find an aerosol that worked so I am under no illusion that natural deodorants are the same– you just need to take the time to find what works for your skin type and your needs. The first thing that was very different about this eco deodorant was that the aroma was immediately there when I opened the lid which I hadn't experienced with others and that it has a soft texture which I also hadn't seen before. When applying it, I quickly realised I didn't need much as a little went a long way. The deodorant not only smelt lovely it also left my underarms softer. The ingredients used include:
Magnesium Hydroxide to remove odour whilst being kind to sensitive skin
Lavender essential oil to calm and focus you
Bergamot essential oil to de-stress, uplift and smell amazing
Sodium Bicarbonate, which is a proven highly effective odour absorbent
Sweet almond oil to deeply moisturise and be kind to sensitive skin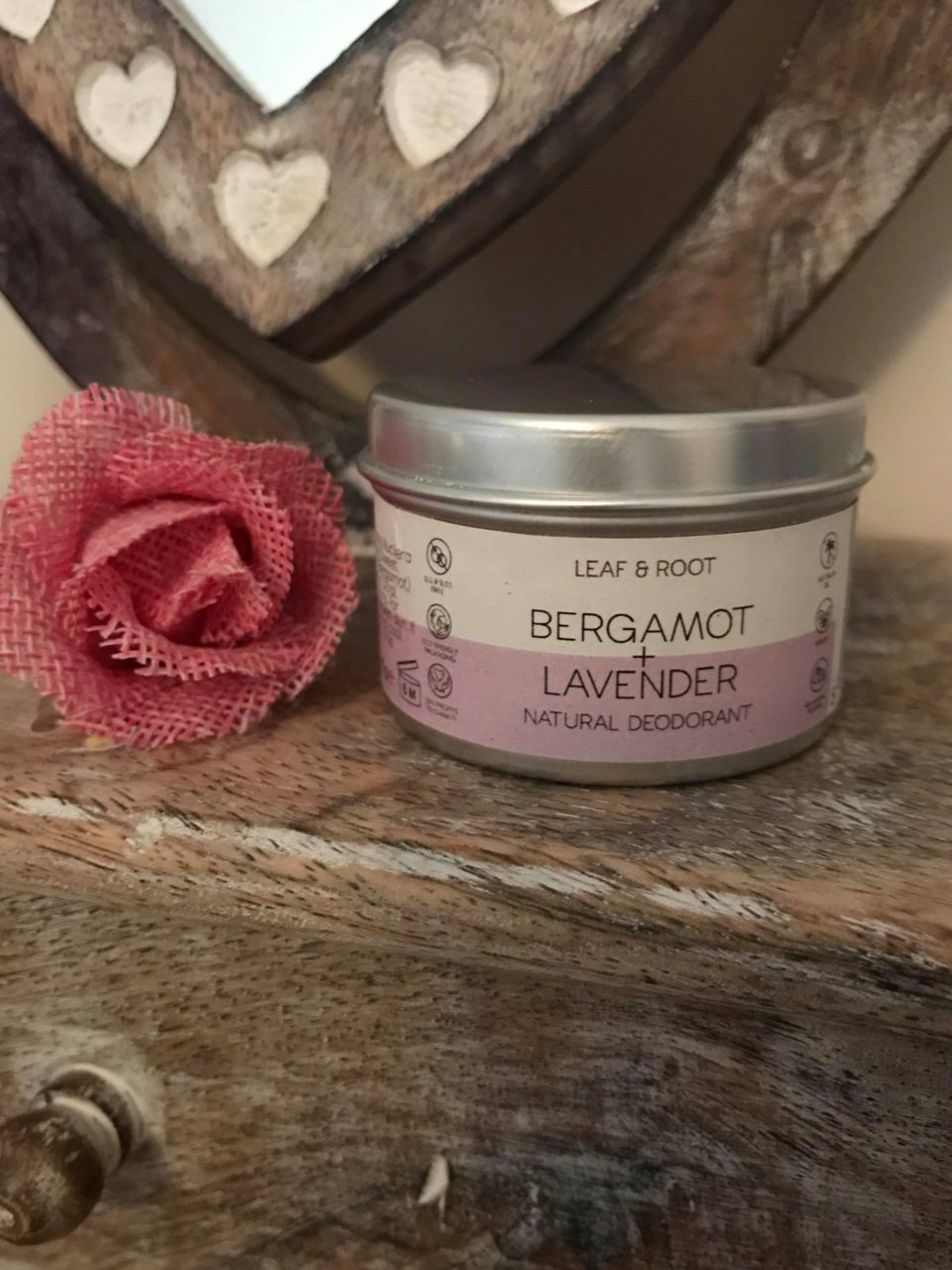 After a couple of weeks of use, I can report that I have had no issues with smelling, no irritation, no dryness etc but on a couple of occasions I have had wet marks on my clothes which is a problem I have always suffered from. However, I am going to persist with it as it is still early days, we have just had a change in weather and I love everything else about it so I am really hoping that my body will adjust to the natural ingredients.
Overall Thoughts
These luxury eco-friendly cosmetics from Leaf and Root are clearly well made, the ingredients have been carefully thought about and brought together and I am now very eager to give more of the range a try. To view all of Leaf and Root Cosmetics just head to their website here.
*I received these products in exchange for an honest review. As always all thoughts and opinions are my own. For further information please refer to my disclosure page.
Pin for later:
If you enjoyed this post you can follow more of our life, opinions and antics over on Facebook, Twitter, YouTube and Instagram. Plus feel free to come and join in with my parenting group 'From One Parent to Another' on Facebook.
If you'd like to contact me you can either leave me a comment or drop me a line via my contact me page.
For other topics similar to this one check out these suggestions below…