My Skincare Travel Essentials From Beeutiful
*Ad
The countdown is on to my holiday which means my mind is turning to planning my clothes, travel products and my skincare travel essentials. I don't want to take too much as we kinda had a weight issue last year (the bags you understand, not me!) and I certainly don't want to repeat that mistake. However, I do still want my luxury items and everything that will make me feel good. This is why I am so pleased that Carly from Beeutiful has travel-sized pots of her magic skincare treats!
My Skincare Travel Essentials Include…
B-Balm
Ok, I will keep this bit short and sweet as I have spoken about the powers of B-balm previously and have raved about it on social media so if you have followed me for a while you will know that I LOVE this stuff!! It heals dry skin, sores, eczema, nappy rash (it states over 3 years before that age she sells baby balm and botty balm as these do not contain tea tree but we've used it before then), bites, stings, basically a huge variety of skin problems. We go through so much of it and it has replaced an abundance of other (pretty useless) products. I keep these tiny pots in my handbag and upstairs and then have a bigger pot for downstairs as this gets used more throughout the day. I honestly cannot recommend it enough and these two teeny pots will be joining us on holiday.
'From cuts & grazes to eczema & rosacea this multi-purpose balm is used by our customers on just about anything that requires healing'
Beeutiful Website
Vanilla Geranium Cleansing Balm
Again, I have previously reviewed the Vanilla Geranium Cleansing Balm here. My skin had been so dull and lacklustre, it was dehydrated and I honestly didn't have the energy to do much about it as I was always so tired at the end of the day; all I wanted to do was to roll into bed as soon as I could. When I tried this product I immediately felt it being absorbed into my skin and I started to cleanse religiously because of it! I would even leave it on for a while to allow the oils to rehydrate my yucky skin and the results were brilliant. A pot lasts me so long and I cannot be without this balm now so it is definitely one of my skincare travel essentials and comes everywhere with me.
'A light, soothing balm to cleanse & nourish the skin, gently removing daily dirt & make-up'
Beeutiful Website
B-Rose Facial Balm
This is a brand new product to me yet after a couple of uses I can also say it is brilliant for my skin type and it also complements the Vanilla Geranium Cleansing Balm really well as it adds to the oils your skin has just absorbed and it continues that hydration. It also smells delicious! This is my ultimate skincare travel essential as I know it is going to work wonders for me after that long-haul flight.
Again, you do not need much, less is more here. These products are all designed to last you and a small amount does so much for you.
'A soothing balm with toning & anti-aging properties, enveloping you in luxurious Frankincense & Rose whilst providing maximum hydration'
Beeutiful Website
B-Rose Frankincense and Rose Body Balm
Just like the B-Rose facial balm, this smells lush and treats your body in the same way. It is designed to hydrate, tone, tackle those ageing issues a lot of us now have and the aromas hold calming properties. I want my skin to look good when I am on the beach in Clearwater (humble brag!) and the best way to get an even tan is to have well looked after skin. My suncream will glide over if my skin is hydrated and I won't end up with patchy white areas as I have done in the past (yes, those knees that are constantly in contact with the floor from nappy changes and playing).
Honey Lip Balm
This isn't included in the image but I couldn't leave it out as it is something I have been using for the last couple of years and is the most moisturising lip balm I have ever used. When I was using Vaseline, I found myself applying it over and over again and didn't realise that it was because it wasn't actually doing anything good for my skin. It isn't absorbed, it simply sits there, not to mention the ingredients which I still cannot believe I was putting on my mouth! This lip balm is only applied once or twice a day and I know it will be a necessity in the sun and humidity.
All of these products are homemade, are local to me here in Hampshire, have been expertly created and carefully thought about and are multi-award winning!! Oh, and of course, they are eco-friendly which is a huge plus for me.
My little pots of skincare heaven will all be coming in my travel bag to Florida and I'd love it if you would take the time to check them out too and help to support this small business.
*I am a brand ambassador for Beeutiful Skincare and I receive products in exchange for reviews. However, all opinions are my own and are honest. For further information please refer to my disclosure page.
Pin for later: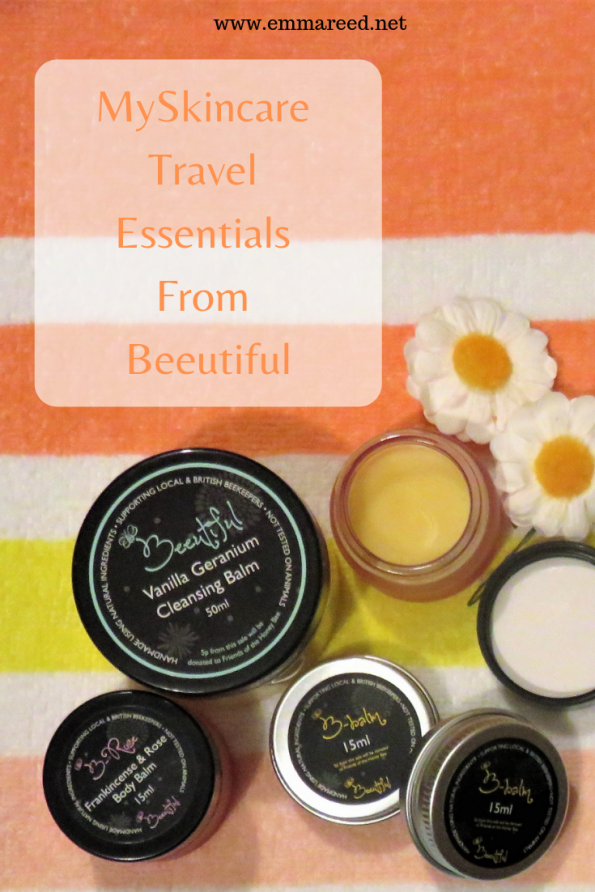 If you enjoyed this post you can follow more of our life, opinions and antics over on Facebook, Twitter, YouTube and Instagram. Plus feel free to come and join in with my parenting group 'From One Parent to Another' on Facebook.
If you'd like to contact me you can either leave me a comment or drop me a line via my contact me page.
For other topics similar to this one check out these suggestions below…